KBFG, Now on air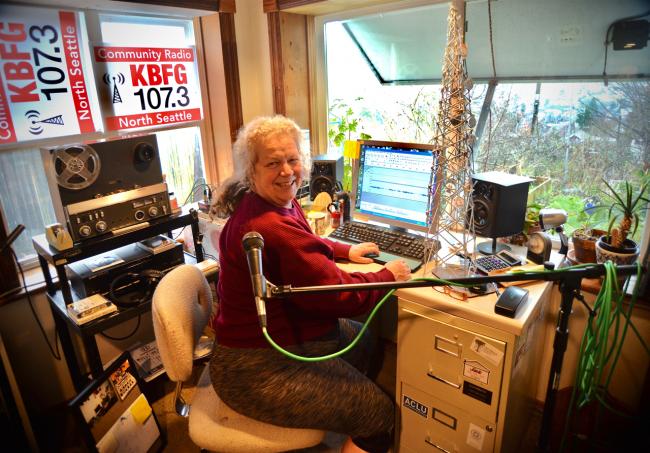 Lindsay Peyton

Mon, 01/08/2018
By Lindsay Peyton
Radio is making a comeback – on the northwest side of Seattle. 
A new community station – KBFG – is now live and on the air at 107.3, broadcasting from its station at 5308 Baker Ave NW. 
Using only 100 watts or less, the station can reach Ballard, Fremont, Greenwood, Phinney, north Queen Anne and Magnolia.
Pam Burton helped with the creation of the station. She explained that the opportunity popped up about four years ago, when the Federal Communications Commission (FCC) made a new round of low-powered FM station licenses available. 
"There's a lot more room on the dial now than in the analogue days," Burton said. 
She said that Eric Muhs, a physics teacher at Ballard High School, put the word out to the community about the chance to join together and create a radio station. 
"We all met in a classroom, coming up with ideas and scheme," Burton said. Before the volunteers could obtain a license from the FCC, they had to form a nonprofit organization, start fundraising and find a spot for an antenna. After the first location fell through, the group went back to the drawing board. 
"The Norse Home has the highest building on the ridge," Burton said. The retirement community was happy to host the antenna. A few residents are even working on a radio drama to air on the station. 
A little more than a year ago, the FCC gave KBFG the green light. The antenna went up last October – and volunteers began broadcasting in November. "All along the way, we got people interested in getting involved," Burton said. "And we got a great board of directors."
Shows so far include local music, talk radio, features on local businesses and even live coverage of Ballard High School varsity basketball games.
"It all happens through our home computers," Burton said. 
She has worked in radio for 20 years. "It gets in your blood," she said. "Once you've done it, you want to do it more."
Burton envisions the radio turning into a source of local news – and even a place where residents can turn during an emergency. She also hopes to get students involved. 
"I would love to engage them and teach them," she said. "But I also want to allow them to express themselves, their hopes, dreams and fears."
Mackenzie McAninch got involved with the station as a way to help out his community. He hosts the "Sea Monster Radio Show" – highlighting musicians who perform at the Sea Monster Lounge in nearby Wallingford.  
"I'm a huge music fan, and I felt like I had a lot to offer," he said. "I contacted them, and they needed a lot of help. Now I'm pretty much in charge of scheduling and social media."
McAninch said that a radio station can bring neighbors together. 
"A community radio station gives a voice to a lot of people," he said. "Our goal is basically to give anybody with a voice in north Seattle the opportunity to speak."
His current goal is ensuring that there's something on the air at all times of the day. "We've made the decision to have something playing 24/7, no matter what," he said. "And every week or two, we're adding new shows."
McAninch said the station will need more volunteers to keep the momentum going. 
"Even if they don't have experience, we can teach people how to do these things, if they're interested," he said. "We just need bodies. We have a skeleton crew right now."
Eventually, McAninch also hopes to have a permanent studio space to produce the shows. 
For now, KBFG is partnering with various organizations, including non-profits, neighborhood associations, schools, youth groups and local businesses to develop programming that reflects and serves the community.
"It's unique and it's different," he said. "You're going to hear artists on this station that you won't hear any other place – and it's commercial free."
For more information, visit http://fulcrumcc.org.
Note: If you don't live in the North Seattle area and can't pick up 107.3 FM, you can stream it to your Amazon Echo/Alexa device, just say "Alexa, stream KBFG" and it should sync you right up. You can also find KBFG on an app called TuneIn.