Homebuyers compete in fast-paced West Seattle market
Homebuyers compete in fast-paced West Seattle market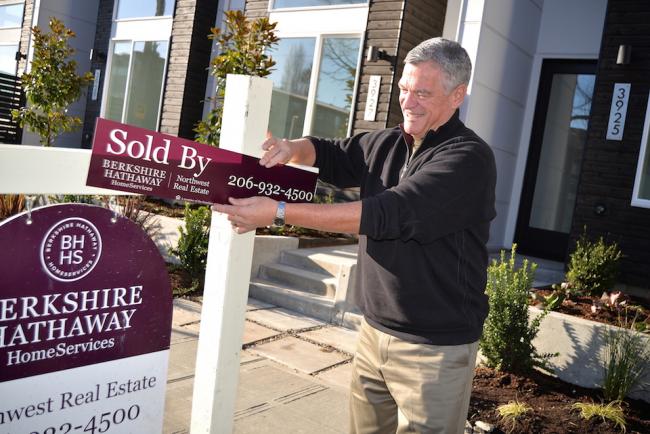 Lindsay Peyton
Mon, 01/04/2016
By Lindsay Peyton
Realtor Don Bereiter starts each interaction with prospective homebuyers with one question: "If I find you a house today, and you really like it, what will you do?"
That's how the branch manager at Berkshire Hathaway HomeServices gauges how prepared clients are to make a move in the current fast-paced, competitive market in West Seattle.

He explained that while individuals listing properties may rejoice in this seller's market, homebuyers might struggle to snag the right house.  
"Prices and values have gone up," Berieter said. "The biggest problem is inventory. We just don't have enough to sell."
Looking at Multiple Listing Service Area 140, which spans West Seattle from the bridge to Roxbury Street, he counts 88 residential listings for last month, which is down from 188 listings at the same time last year.
Berieter offers a number of reasons for the changing market. He explained that construction of new homes was in a lull after the economic recession – and builders are just getting started in the area again.
He added that homeowners who live in the area are staying put, which also contributes to fewer homes on the market.
"West Seattle is desirable," Berieter said. "There's a neighborhood feel, but it's close to the city. You've got the views; you've got the water. It's a great place to live -- and the prices are still affordable."
He said average home prices are about $500,000 – compared to $900,000 in Queen Anne and close to $2 million in Bellevue.
When houses do pop up on the market, they tend to move quickly, Berieter said. Homes spend an average of 24 days on the market, down from 29 last year.
"That's really fast," Berieter said. "You hear stories of 30 offers on a place. Some have three or four. Overpriced homes have no offers. There's still stuff that will sit there."
He advises homebuyers to be flexible – both on the price and the location of the listings they will consider. "Buyers have to be patient and understand the market," he said. "They may want to go further south – to Burien, Des Moines or Kent -- where it's not as chaotic."
Berieter also tells his clients to get preapproved and ready to make an offer if they find the right property.
Michael von Kempf and his wife Jewel recently sold their home and bought a new home within one week. This will be the couple's fourth home together in West Seattle.
"We were lucky," von Kempf said. "In this market, it's really hard to negotiate. You can't ask for much."
They offered the listing price, he said. About five years ago, when they bought their current home, they had a lot more room to make offers.
"House prices were down," von Kempf said. "There were a lot of houses, and we didn't have any competition."
The couple sold their current home in one week. They hosted an open house over the weekend and received multiple offers the following Wednesday.
"When the market is at its peak, you should always sell," he said. "Then you can lay low, rent and wait for the right house to come along. You should never jump into buying the next house, because you might end up settling or losing money."