Burien Actors Theatre launches 38th Season
Burien Actors Theatre launches 38th Season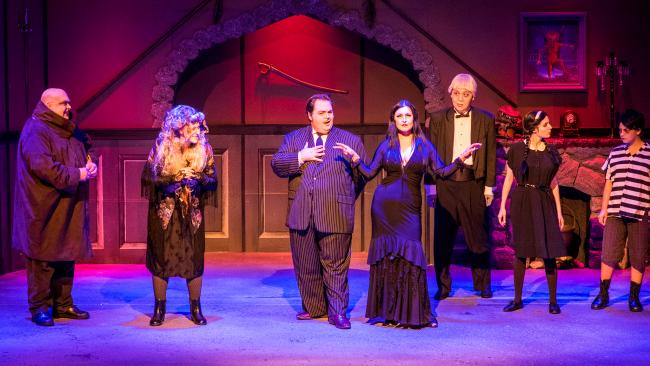 Michael Brunk
Sat, 09/09/2017
By Lindsay Peyton
The Burien Actors Theatre is preparing for its annual gala –a night that provides a sneak peek into the company's upcoming season. 
The Gala Party and Show is slated for 6 p.m. on Saturday, Sept. 16 at the theatre's home, 14501 4th Ave SW. 
Managing director Maggie Larrick and artistic director Eric Dickman said guests have the opportunity to experience firsthand the theatre's mélange of music, comedy and drama – as well as backstage tours, food, cocktails and special giveaways.  
Soon after the fete, Larrick and Dickman will embark on Burien Actors Theatre's 38th season. 
The first play will be Richard Strand's "Ben Butler" – a historical drama and comedy, which runs from Friday, Sept. 29 through Sunday, Oct. 22. 
The company has produced top-notch theatre in Burien since 1955 – and was incorporated in the 1980s as Burien Little Theatre. 
"We're not new kids on the block," Dickman said. But the name may have prevented the theatre company from getting the credit it deserved, he explained. 
"Little was becoming synonymous with community theatre and with children's theatre," he said. "It wasn't representing what we were doing. We were missing audience – and we were missing actors who thought we were a children's theatre."
The name was changed to Burien Actors Theatre in October 2013 to more accurately reflect the quality and type of work onstage. 
Area residents have also mistakenly thought that the company was supported by the City of Burien, since it is housed in the Burien Community Center Annex, at 14501 4th Avenue SW. Burien Actors Theatre simply rents the space. 
"Our budget is something we raise through ticket sales, sponsorships and donations," Larrick said. "We borrow and reuse our sets and costumes. Our goal is to keep our ticket prices affordable – and still do high quality theatre, which means a lot of creativity and lots of sweat equity."
Larrick and Dickman are hoping to spread the word that the theatre company is producing high quality shows, with community support and exploring important topics – all at affordable prices. 
The duo helped revitalize the theatre company after a tumultuous period. 
"The theatre has been around for 37 years," Dickman said. "It's had its ups and downs. It got to a point where one person was trying to do it all."
"No one person can do theatre," Larrick added. "Theatre requires a lot of people, a lot of space and a lot of time."
Larrick and Dickman helped create a whole new board of trustees in 2009. They stayed on as staff members – and left the long-range planning and vision to the board. 
"Because of that, our budgets have gone up, ticket sales are up and the place runs smoother," Dickman said. "That was a good step toward making out theatre more successful – and we're continuing that effort. We're always looking for ways to be better."
In addition to its name change and leadership overhaul, the company has survived the economic recession and a major fire in 2013. 
Burien Actors Theatre has persevered – and continued to grow. "We want to be a powerhouse in the south end when it comes to theatre," Dickman said. "Our goal is that when you're thinking about Seattle, you think about Burien Actors Theatre and the quality of shows we have."
"We want to be a safe place for people to do good art," Larrick added. "We want to drive Burien on the map when it comes to the arts. There are a lot of artists here – and they need a focal point. We're happy to do it."
The company usually focuses on modern and contemporary works – but will occasionally produce an older play. "Sometimes, it's a well-known show, but we put a twist on it," Larrick said. 
They often gravitate to plays that feature strong female roles – and allow for diverse casts. 
Burien Actors Theatre also provides space for playwright group meetings and a lending library. Plans are also in the works for starting a script club – a book club that reads scripts. The company's top priority, however, is still bringing great plays to life. "We have an interest in telling a good story," Dickman said. 
The company's 2017-2018 season also includes Norman Allen's "The Christmas Carol Rag"  and Gina Gionfriddo's "Rapture, Blister, Burn" and Jason Odell Williams' "Church & State."
Tickets are available online at www.burienactorstheatre.org and at Pickled and Preserved Market and Deli, 546 SW 152nd St in Burien.