Trumpet Meditations from the Arctic North: Grieg Society brings Norwegian duo to Seattle
Trumpet Meditations from the Arctic North: Grieg Society brings Norwegian duo to Seattle
March 23 in Ballard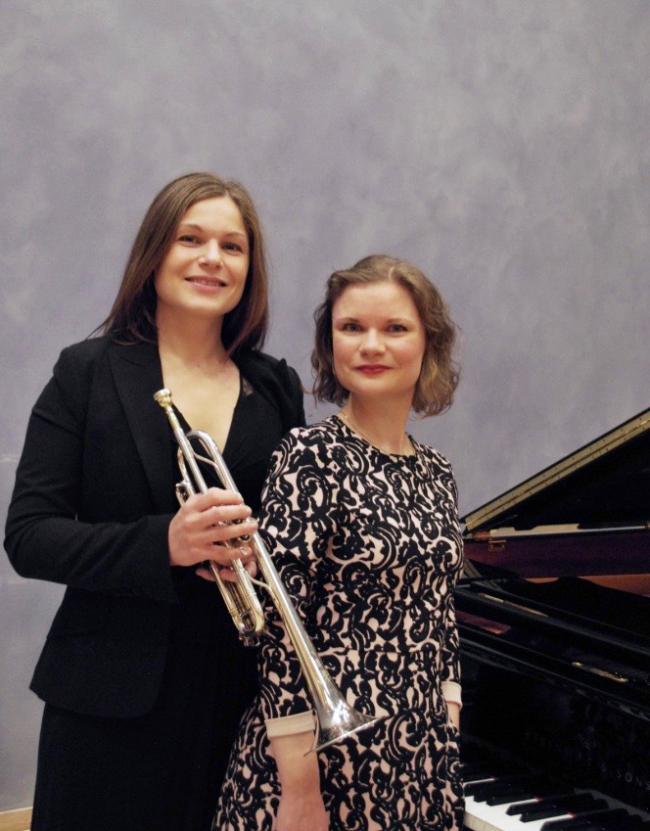 Courtesy photo
Thu, 03/01/2018
By Lori Ann Reinhall
2017 marked the founding of Seattle's new Northwest Edvard Grieg Society, and after a series of intimate house concerts, the group is ready to launch their new 2018 season with the appearance of two guest artists from the north of Norway. On Friday, March 23, at 7:30 p.m. trumpeter Ingrid Eliassen and pianist Ekaterina Isayevskaya from the University of Tromsø will present a special concert, "Trumpet Meditations: Music and Musicians of the Norwegian Arctic," at Ballard First Lutheran Church at 7:30 p.m.
The Norwegian composer Edvard Grieg was born in Bergen nearly 175 years ago, and in his day, his home at Troldhaugen outside the city with a sweeping view overlooking a fjord ,was a gathering place for musicians from both near and far. During his lifetime, Grieg worked as a musical ambassador, nurturing and sponsoring young talent from abroad, and it is in this same vein that the Northwest Edvard Grieg Society is bringing the young Norwegian duo to Seattle, explains Laura Loge, president of the group. 
On the evening of the 23rd, guests will get the opportunity to hear repertory rarely heard outside of Norway, including Norwegian composers Ketil Hvoslef, Torstein Aagard-Nilsen, Rolf Wallin, Ketil Vea, and Alexander Aarøen Pedersen. The rich and varied program includes familiar and less well-known works, including Pedersen's Trompetmeditasjon, which was commissioned for the tour. 
When not teaching trumpet at the University of Tromsø, Ingrid Eliassen is acclaimed for her appearances at the popular Midnattkonserter, "midnight sun concerts," at the city's famous Arctic Cathedral, where she performs in a trio with a singer and pianist. Since 2013 she has been a regular soloist with the Arctic Philharmonic, and she has appeared a trumpet soloist with major orchestras throughout Norway. Her numerous CD recordings have earned her rave reviews, and she is often a featured guest artist at music festivals, both in at home and abroad.
Ekaterina Isayevskaya is lecturer in piano accompaniment at the University of Tromsø, where she works with both students and faculty on all aspects of performance. Since 2009 Ekaterina has been accompanist for the annual Arctic Trombone Festival, taking part in master classes and playing recitals with a wide spectrum of internationally renowned musicians.  Most notably, in 2016 Ms. Isayevskaya performed with Ms. Lu Zhang from the China National Traditional Orchestra, the recipient of a prestigious grant from the Sino-Nordic Association.
Both Eliassen and Isayevskaya are regular performers at the Tromsø Northern Lights Festival Nordlysfestivalen and the North Norwegian Festival Festsillene i Nordnorge. They are immensely popular in their hometown and throughout Norway, as they now enter on to the world stage, bringing their uniquely Norwegian perspective to the American musical scene.
The Seattle concert on March 23, 7:30 p.m. at Ballard First Lutheran Church, 2006 NW 65th St., is open and free to the public, with a suggested $10 donation to the Northwest Edvard Grieg Society. Concert-goers are encouraged to RSVP at www.eventbrite.com. To learn more about the Northwest Edvard Grieg Society, visit www.nwegriegsociety.org.