West Seattle Police Blotter week 3-12-18
West Seattle Police Blotter week 3-12-18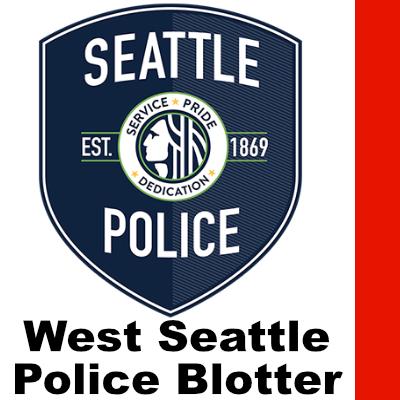 Mon, 03/12/2018
Suspect Arrested Following Standoff, Shots Fired in High Point
A 26-year-old man is in custody and several guns have been recovered following an extended call Wednesday night into Thursday morning in the High Point neighborhood in West Seattle. Just before 9 p.m. on Wednesday, March 7, officers responded to several reports of shots fired in the 6000 block of Lanham Pl. SW. Officers found that bullets damaged a parked vehicle in front of an apartment building. In addition, they discovered that several items had been thrown from a third-floor apartment onto the ground below. As police were containing the building, an individual threw two handguns out of a window. Officers attempted to make contact with the occupants but were unable. Officers believed the male suspect inside the apartment was in crisis. After a prolonged standoff, they obtained a search warrant for the building. With the assistance of SWAT, Gang Unit detectives and K9 units, officers entered the apartment where the 26-year-old suspect was arrested without incident.  Inside the apartment, several additional handgun magazines and ammunition were located and collected for evidence.  One of the handguns tossed out of the window was reported as stolen, while the other had been reported as missing. The suspect was a convicted felon and was booked into the King County Jail for weapons violation. Detectives are still following up on the investigation.
Patient assaults staff member
Police received a call about an assault in the 2600 block of SW Holden around 12:25 a.m. on Thursday, March 1. An employee at the facility said she was doing her rounds around 11:45 p.m. and passed by the kitchen, where a patient was sitting. The patient made a racist comment. The victim continued making her rounds, and then something hit her in the back of the head. When she turned around, the victim realized she had been struck with a small, paper book. The suspect was taken into her room after the assault. She was sleeping when police arrived. The woman has a history of attacking staff members, regardless of their race. The victim said she did not need medical attention. She was not concerned for her safety but wanted to report the incident. 
Shoplifter swings at victim
Officers headed to the 2500 block of SW Barton St. around 7:50 p.m. on Thursday, March 1 to check on a chronic shoplifter that had just appeared in a store. The victim said that the suspect tried to hit him before leaving, after attempting to steal items. When the victim confronted the suspect, the man left and swung at the victim. The suspect was intoxicated. The man had been previously trespassed from the store. 
Burglary on Delridge Way
Officers were dispatched to the 8800 block of Delridge Way SW around 12:45 p.m. on Wednesday, Feb. 28 to investigate a burglary. The caller said his Orca card, cell phone and $40 in cash had been stolen.