Low-salt recipes for the Breakfast of Hope
Low-salt recipes for the Breakfast of Hope
By Katy Wilkens, MS, RD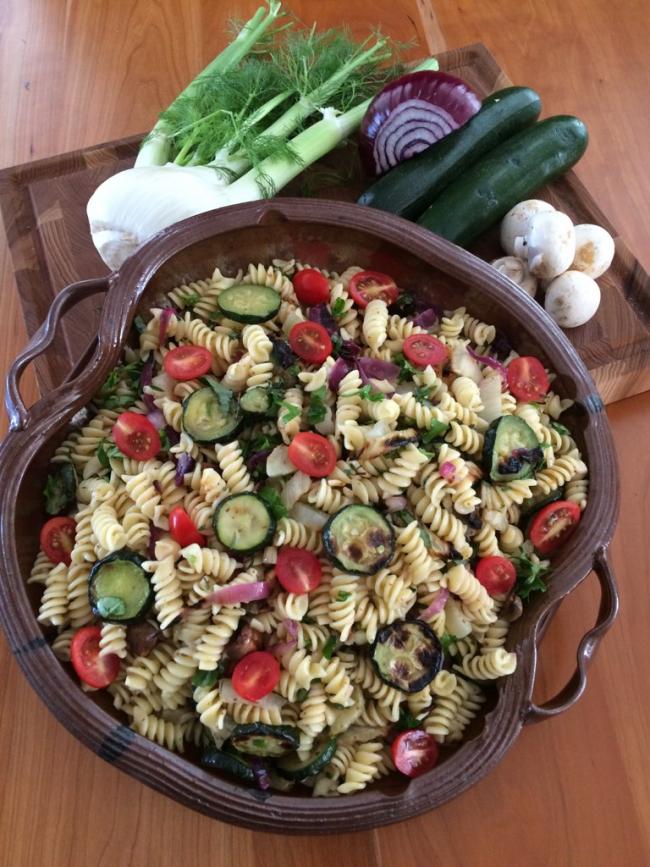 Tue, 05/29/2018
These recipes do everything to make low-salt recipes highly appealing. They combine savory and spicy flavors, fresh herbs and complex notes like fennel and mushrooms. They feature umami flavor, the "fifth taste" that improves food so that you don't miss salty ingredients at all.
I recently had the pleasure of working with Chef Duane Sunwold, a professional chef and culinary arts teacher at the Community Colleges of Spokane. He and I both spoke at Northwest Kidney Centers' annual Breakfast of Hope.
It was a great opportunity to educate nearly 700 people on where blood-pressure-raising salt lurks in our processed food. Chef Duane told how changing his diet by incorporating low-salt recipes pulled him from the brink of kidney failure and returned him to good health. He also shared some wonderful, kidney-friendly recipes—easy to make and bursting with flavor.
Chef Duane follows a vegan diet, but you can use small amounts of cheese and dairy in these recipes if you like. If you have healthy kidneys, add more tomatoes to the salad recipe; they are high in potassium and studies show that potassium helps lower blood pressure.
Low-salt recipes
Grilled Vegetable Pasta Salad
Dressing:
2 cloves garlic, minced
1 tablespoon and 1 teaspoon Dijon mustard
¼ cup lemon juice
¼ cup olive oil
½ teaspoon fresh black pepper
Salad:
12 ounces uncooked rotini (curly pasta)
2 medium zucchinis, sliced
1 head of anise (fennel), sliced
8 button mushrooms, quartered
1 red onion, cut into quarters and then slice
8 cherry or grape tomatoes, cut in half
2 tablespoons fresh basil leaves, shredded
1 tablespoon fresh thyme
1 tablespoon fresh oregano
1tablespoon fresh parsley, chopped
To make the dressing, put the ingredients in a mixing bowl and whisk together.
Combine the vegetables in a large mixing bowl. Pour half of dressing over the vegetables and stir until all are lightly coated. Let vegetables marinate while you cook the pasta according to package directions. Rinse pasta in cold water. 
Meanwhile, set your oven to broil or start heating your barbecue. Use a greased broiler pan in the oven or a grill basket for the barbecue. 
Spread vegetables out on broiling pan or add to a grill basket and cook until the vegetables turn golden brown. Stir every 4 to 5 minutes so browning occurs evenly. When browned, pour into a large serving bowl and add pasta, remaining dressing and fresh herbs. Toss and serve.
Nutritional Information: Calories: 243, Carbohydrates: 38 milligrams, Protein: 7 grams, Sodium: 76 milligrams
Caramel Apple Pound Cake 
3 Granny Smith apples, peeled, cored and diced
1 yellow cake mix, regular or sugar-free
¾ cup flour
12 egg whites
¼ cup vegetable oil
2 tablespoons water
¼ cup caramel flavored syrup, regular or sugar-free
Powdered sugar, sprinkled on top
Heat oven to 325 degrees. Microwave diced apples for 6 minutes on high or until they are very soft. Mash into a paste-like applesauce and let cool to room temperature.
In a mixing bowl add cake mix, flour, egg whites, vegetable oil, water, apple mixture and caramel flavoring. Mix on low speed for 1 minute, scraping the sides of the bowl, and then mix on medium for 2 minutes.
Pour batter into two greased glass loaf pans. Bake for 30 to 35 minutes. The cake is done when a toothpick stuck in the middle comes out clean. After the cake has cooled, sprinkle with powder sugar before serving. Makes 12 servings.
Nutritional Information (per serving): Calories 208, Protein 11 grams, Carbohydrates 31 grams, Sodium 337 milligrams
The information in this column is meant for people who want to keep their kidneys healthy and blood pressure down by following a low-sodium diet. In most cases, except for dialysis patients, a diet high in potassium is thought to help lower high blood pressure. These recipes are not intended for people on dialysis without the supervision of a registered dietitian.
[Katy G. Wilkens is a registered dietitian and department head at Northwest Kidney Centers. A recipient of the Susan Knapp Excellence in Education Award from the National Kidney Foundation Council on Renal Nutrition, she has a Master of Science degree in nutritional sciences from the University of Washington. See more low-salt recipes at www.nwkidney.org.]