The Bounty of Summer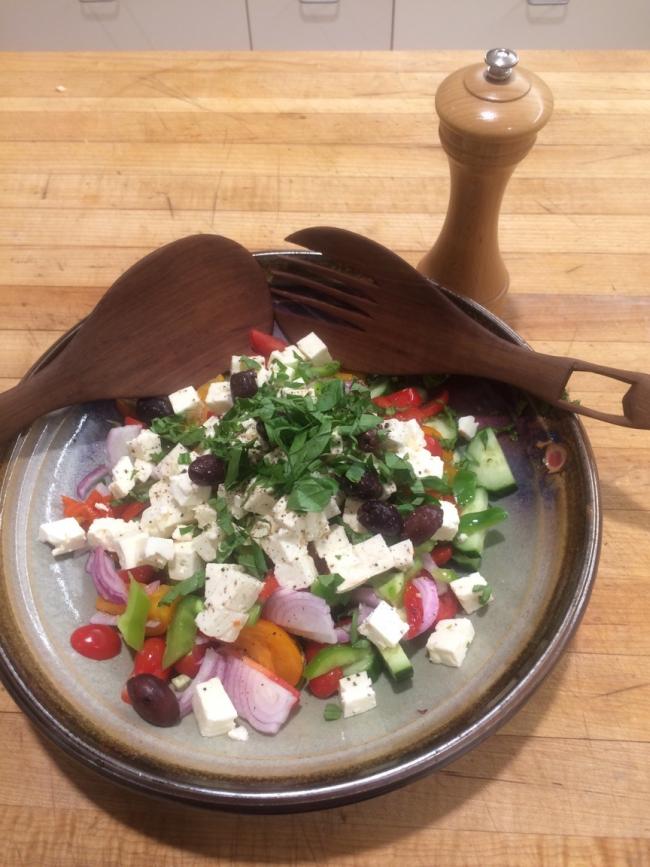 Mon, 08/27/2018
By Katy Wilkens, MS, RD
I love the long, hot days of summer. My garden responds to the heat with a surge of greenery and fruits that is enchanting. Figs ripen overnight, peaches are ready to eat in an afternoon, and every day there are more tomatoes!
Tomatoes are a magical umami food. Cook them slowly on the back burner into a sauce and their flavor is magnified. Umami is the fifth taste, described as a rich, earthy, broth-like flavor. Homemade tomato sauce is so flavorful you don't need to add salt, which is good news for your blood pressure, heart and kidneys. Homemade sauce is lower in sodium than the average 500 milligrams per half cup most commercial tomato sauces contain.
To use up my tomatoes, I make Greek salad almost every night. My low-sodium version uses plain goat cheese instead of salty feta cheese, and just a few Kalamata olives, for a total of less than 250 milligrams of sodium. My secret ingredient is blueberries, which add a sweet zing and a great color to the salad.
I often serve the salad alongside spiral or rice-shaped orzo pasta topped with fresh tomato sauce. This summer meal lets the brightness of perfectly flavorful tomatoes shine through. The pasta-and-sauce entree has only 13 milligrams of sodium, compared to your 1,500-milligram daily target for good health. That means, if you'd like, you can splurge a bit on the salad by using feta, but it's great with chevre cheese too.
Fresh Tomato Herb Sauce
2 cloves garlic, sautéed
2 tablespoons fresh oregano
¼ cup fresh basil
2-3 pounds garden ripe tomatoes
¼ cup olive oil
Spiral pasta or orzo
Sauté garlic and add oregano just at last minute to wilt it. Cut basil in thin strips, cut tomatoes in half. Put all in a bowl. Add olive oil and toss. Serve at room temperature over cooked hot pasta. Sprinkle with fresh parmesan cheese.
Nutritional Information:
Calories: 147, Protein: 1 grams, Fat: 13 grams, Sodium: 13 milligrams
Low Sodium Greek Salad
1 pound mixed types of tomatoes
1 large cucumber
¼ cup fresh basil
¼ purple onion
1 green or yellow pepper, sliced thin
2-4 tablespoons olive oil
1-2 tablespoons vinegar, fruit or herb or white balsamic
1/4-1/2 cup chevre cheese
½ cup fresh blueberries
3-6 Kalamata olives, sliced in half (optional)
¼ cup crumbled feta cheese (optional, sub for goat cheese)
Cut tomatoes into wedges. Cut basil into thin strips. Dice onion, slice peppers. Toss it all with olive oil and vinegar. Taste and add more oil or vinegar, depending on how sweet or tart the tomatoes are. Scatter dime-size pieces of cheese across the top and serve. Serves 2 as main course, 4 as salad.
Nutritional Information:
Calories: 350, Protein: 6 grams, Fat: 33 grams, Sodium: 111 milligrams (250 with 5 sliced olives for 2 people, 550 with feta for 2.)
The information in this column is meant for people who want to keep their kidneys healthy and blood pressure down by following a low-sodium diet. In most cases, except for dialysis patients, a diet high in potassium is thought to help lower high blood pressure. These recipes are not intended for people on dialysis without the supervision of a registered dietitian.
[Katy G. Wilkens is a registered dietitian and department head at Northwest Kidney Centers. A recipient of the Susan Knapp Excellence in Education Award and the Joel D.Kopple award from the National Kidney Foundation Council on Renal Nutrition, she has a Master of Science degree in nutritional sciences from the University of Washington. See more recipes at www.nwkidney.org.]