Division leader West Seattle soccer triumphant over Sealth
Division leader West Seattle soccer triumphant over Sealth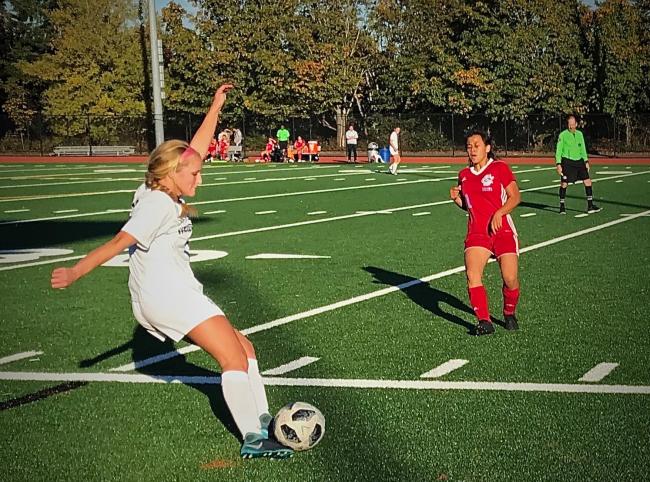 Photo by Gerardo Bolong

Fri, 10/12/2018
By Gerardo Bolong
The West Seattle girls soccer team controlled the action with aggressive ground attacks to win a 9-1 4A Metro South encounter at crosstown rival Chief Sealth International High School on Thurs., Oct., 11, to improve its league record to 4-0 with two more games remaining in the regular season and a playoff start pending.
"It was fun to play our crosstown rival," Wildcat head coach Todd Veenhuizen observed about his 9-0-1 overall team "There was good spirit. We want to keep pushing each game and move the ball with speed." West Seattle quickly assumed control of the match by spreading the field well for ground passing that blended well with the outside forwards for crossing passes, as well as pushing up to create through ball passes.
By the eighth minute of game time, Ally Veenhuizen notched a free kick goal for the game's first score. Continuous player spacing combined in constant attacks on a beleaguered, but continually fighting Seahawk defense. Four minutes after the Veenhuizen goal, the visiting Wildcats had a shot bound off the cross bar with a follow shot barely missing the net.
In the 21st minute, Marissa Rackner cleared herself for a goal that created a 2-0 lead for WS. Eight minutes elapsed before Daniella Colberg deposited a kick into goal to stretch the margin to 3-0. Three minutes before halftime, striker Juliet Anawalt earned the first of her two goals as the talented Wildcats rested with a 4-0 halftime lead. Second half play showed similar patterns as the first half with West Seattle continuing the attack, but suddenly the home standing Seahawks scored. Eleventh grader Sorrel Myers was able to fire home a long kick from the right side in the 43rd minute for CSIHS in the 43rd minute.
"Carmyn (Yoshitomi)kicked the ball to my feet and I just shot," said Myers.
The game settled more despite WS owning an attacking edge. Braeden Swanson went through the center to make the score 5-1 and the Wildcats just kept the pressure on with an own goal from the Seahawks added to single goals from by Ella Wodrich, Anawalt, and Lexi Foster. "We did very well when were passing the ball," Anawalt said.
"The team is unselfish and does well when we can connect." Despite the loss, Sealth head coach Chris Broveleit was pleased with the effort of his squad. "We had 16 girls come out this year," he said.
"They've been competitive and brave. The beginning of the second half was good." Chief Sealth now stands at 1-2 league and 2-7-1 overall.