Homemade salsa: heat for the winter
Homemade salsa: heat for the winter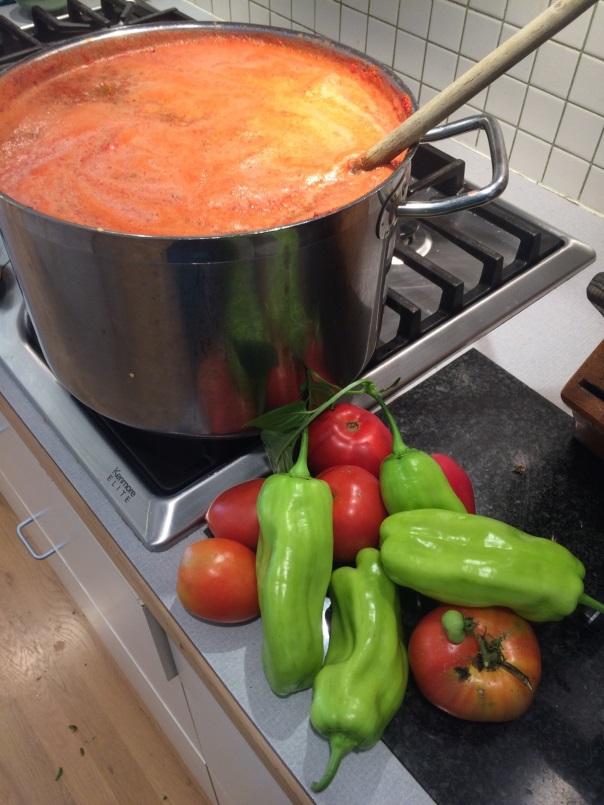 Cynthia Flash
Tue, 11/06/2018
By Katy G. Wilkens
This time of year I harvest from my garden every day. I want my tomatoes and peppers to catch the last few days of sun, while being careful to pick everything I can in anticipation of the first frost. 
I do a lot of canning in autumn. We simply can't eat all the fruit and veggies flowing out of the garden and I want to enjoy summer tastes through the winter. Canning, freezing or drying fruits and veggies takes me back to a simpler time when people were not only thrilled with the abundance of summer, but needed to stockpile that nutrition for leaner months.  
If you plan to can your own salsa, be sure to follow directions for hot water bath canning. The Ball Blue Book Guide to Preserving is an excellent resource. When I can garden produce, I leave out salt that the recipe may call for. There is no salt in my garden, my kitchen or in the veggies I can at home. That's because I want my heart and kidneys to be as healthy as they can be.
If you don't have a garden, visit farmers markets for as long as they are open. You will see an amazing array of apples, figs, squash, onions, cool-weather greens and mushrooms. Local grocery stores are also bursting with beautiful produce this time of year. 
This salsa recipe is quick to make and you can upsize it to as much as 10 pounds of tomatoes. It will serve 6 to 8 people as a dip for chips. Or spoon it on salt-free breakfast burritos for a taste of sunny summer on a cool winter morning.  
60-Second Salsa
4 Roma or plum tomatoes, chopped
2 green onions, chopped
3 garlic cloves, minced
½ green bell or cubanelle (cubano) pepper, chopped
½ - 1 fresh jalapeno, chopped
½ bunch fresh cilantro, chopped
½ teaspoon cumin
¼ cup fresh oregano, chopped
¼ cup lemon juice
Mix all ingredients in a food processor or blender until the larger items are small but still chunky. Place in refrigerator for about 2 hours. Best served chilled and with plain, salt-free tortilla chips. Makes 8 servings.
Nutrition Information (per servings):
Calories: 14, Carbohydrates: 2 grams, Protein: 1 gram, Sodium: 4 milligrams
Burritos Rapidos
½ tablespoon canola or olive oil 
½ red bell pepper, diced
4 green onions (scallions), sliced thin
4 eggs, beaten
4 corn tortillas, 6-inch
Optional: shredded cheese, salsa, green onions, cilantro, sautéed mushrooms
In a medium-sized frying pan, heat oil on medium. Add bell pepper and green onion and cook for 5 minutes. Add eggs and scramble about 5 minutes or until done. Place tortillas between two damp paper towels on a plate. Microwave on medium heat for 3 minutes. Spoon egg mixture onto warm tortillas, roll up and enjoy. 
Nutrition Information (per burrito): 
Calories: 140, Carbohydrates: 14 grams, Protein: 7 grams, Sodium: 50 milligrams
[Katy G. Wilkens is a registered dietitian and department head at Northwest Kidney Centers. The National Kidney Foundation Council on Renal Nutrition has honored her with its highest awards: the Susan Knapp Excellence in Education Award and the Joel D. Kopple Award for significant contributions in renal nutrition. See more recipes at www.nwkidney.org.]