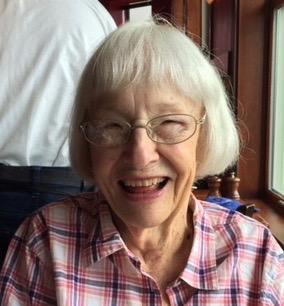 Marjorie Elizabeth Kettells, 92, died November 2, 2018.  Her husband Clifford Kettells preceded her in death.  She leaves her loving family, daughter Joyce Vail and her partner Jan Solomon, daughter Sharon Kettells and her husband Gary Goodall; grandsons Patrick Vail (Ashley), Scott Goodall (Jackie) and Evan Goodall; great grandchildren Maggie and Nate Vail and Addie Goodall; and her beloved younger sister, Barbara Smith.
Marge was born in Canton, North Carolina; she was a graduate of Fontana Dam High School; the TVA established the town for workers who built the dam, and their families.  Later, she worked for the Manhattan Project in Oak Ridge, Tennessee.  She moved to Seattle at age 20, where she met her husband Clifford, at the family-owned business, Kettells Corner Grocery and Restaurant, in the Georgetown area of Seattle. They raised their family in West Seattle. She loved gardening and was a longtime member of the Aqua Vista Garden Club and the Arboretum Foundation.  She volunteered extensively with the Seattle King County Council of Campfire Girls, serving in a number of roles for over 20 years. She also worked at Kettells Corner.
Marge also enjoyed travel, visiting Europe, China, Australia, Greece, and many US and Canada destinations through Elder Hostel.  She loved music and art, reading, the theatre, and spending time with friends and family.  She was a resident of the Kenney Retirement Home for 3 years and leaves many cherished friends there. Special gratitude goes to Cindy and Howard's Adult Family Home for the loving care that made Mom's last days comfortable.  Mom requested no memorial service; any memorial contributions may be made to the Arboretum Foundation.