McPherson hits court for Huskies
McPherson hits court for Huskies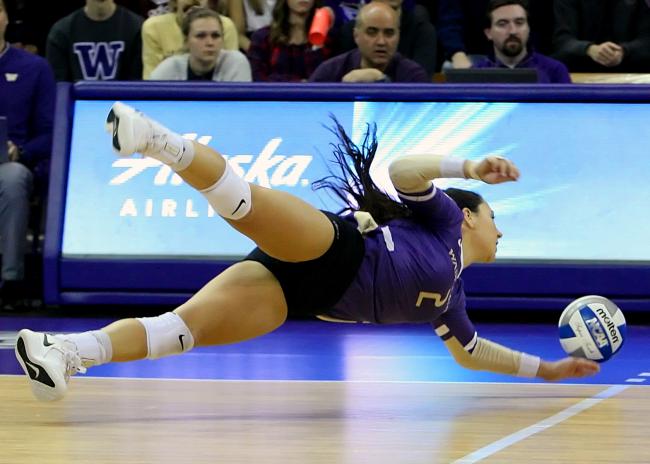 Kurt Howard
Mon, 11/19/2018
By Tim Clinton
SPORTS EDITOR
West Seattle resident and Kennedy Catholic graduate Shayne McPherson stands out on the volleyball court, and it isn't just because she wears a different color uniform than her University of Washington teammates.
The junior libero also isn't taller than the rest. In fact, at 5-foot, 6-inches she is one of the shortest.
It's more because of her hustle and all-out effort, especially her dives onto the floor to dig out opponents' shots.
"I love diving," she said. "It's super fun."
"It's fun to watch her fly around out there," said Huskies head coach Keegan Cook. "She's not afraid to put her body on the line, as we saw tonight."
Tonight was Friday, when she led the UW with 22 digs in a 26-24, 25-17, 23-25, 25-21 home win over the California Bears.
"There were four or five plays I'm sure she'd like to have back," said coach Cook. "It's come to the point where you expect her to make all of them. But 22 digs in four games, she did a nice job there again."
There is the libero position, where McPherson was moved this year. The position requires the different color uniforms.
"Last year I was mostly a defensive specialist, so it was a smaller role," she said. "This year I'm the libero, so I've seen a lot of floor time."
McPherson is on the court a majority of the time as the digs leader and initial server.
She has a total of 403 digs on the year for the 20th ranked Huskies.
Even though she stands out defensively at the college level, McPherson was the Seamount League Most Valuable Player as a hitter in leading Kennedy to a state championship as a senior in high school.
"I was just a small hitter," she said. "Winning state my senior year, that was incredible. I tore a ligament in my ankle my junior year and wasn't able to play, then my senior year we came back to win it."
From there, the University of Washington was the only choice she wanted to make.
"It was my dream school since I was young," McPherson said. "I committed in February of my sophomore year. There's no other place I'd want to be. I came to camps here starting like in the third grade."
McPherson started off playing on her family's own beach volleyball court at her home in the Fauntleroy neighborhood of West Seattle.
She played with older sister Jennica, who went on to star for Western Washington University.
"I played beach first," said McPherson, who plays for the UW beach volleyball team in the spring with home matches at Alki Beach in West Seattle.  "I like beach the best. I get to play all positions in beach, pass, set and hit."
But McPherson also likes the atmosphere and crowds of indoor volleyball at the UW.
"The atmosphere here is outstanding and it contributes to how we play," she said.
Just to be at the UW is a dream come true for McPherson, let alone in two sports.
"I love it," she said of being a Husky. "It's very surreal."