Lancers roll by Titans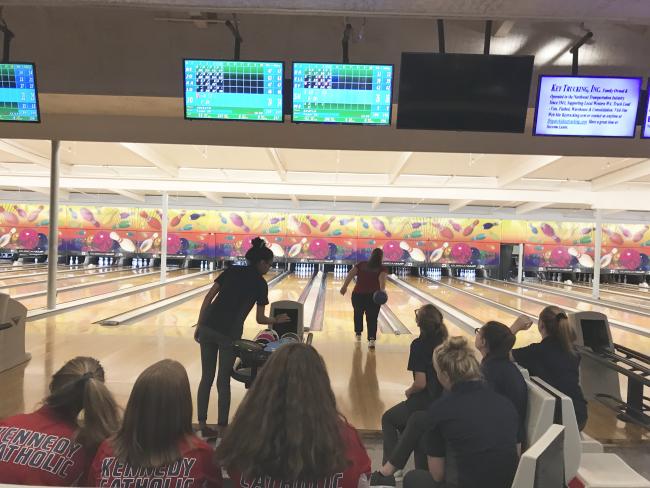 Gerardo Bolong
Thu, 11/22/2018

By Gerardo Bolong
FEDERAL WAY - Clutch bowling in the latter frames of the first two games and the initial Baker format game enabled Kennedy Catholic to upend Todd Beamer 4-1 in NPSL 4A action held at Secoma Lanes on Tues., Nov. 20.
With only two seniors on the varsity roster and missing one of them on this date, KC improved to 1-1 as TB fell to 0-2.
The Titans opened up with strong opening frames to lead 310-382 after five full frames.
Finding their stroke, the Lancers started rallying back with Sydney Elicker's four strikes in a row frames five through eight.
Earning marks as TB left open frames, Kennedy Catholic overcame its deficit in a big way.
By the end of the game, the Lancers had amassed a 670 pinball to the Titans' 602.
Elicker finished with a 175 game with Sydney "Weebs" Weber totaling 155.
"I started not too far left (on the approach) but I was releasing to early. I moved further right."
Controlling the far right, corner angle, she was able to start hitting the head pin more consistently in the first game.
In the second game, the Titans once again bowled to the lead and owned a slight lead halfway through the game.
In an even tighter finish, the Lancers used spares and good pin counts to overtake Beamer in the 10th frame in a tense 624-610 win.
Leadoff bowler Darla Doell paced KC At 144.
The first Baker game featured Todd Beamer strongly to lead 91-62 following the first six frames,
Putting on a strong finish, Kennedy overtook the Titans in the 10th frame to record a 141-133 victory.
With a 1,434 - 1,345 lead in hand, the Lancers had some KC players move up to varsity in the third game as Beamer won it 144-107.