Prairie edges out West Seattle at King Showcase
Prairie edges out West Seattle at King Showcase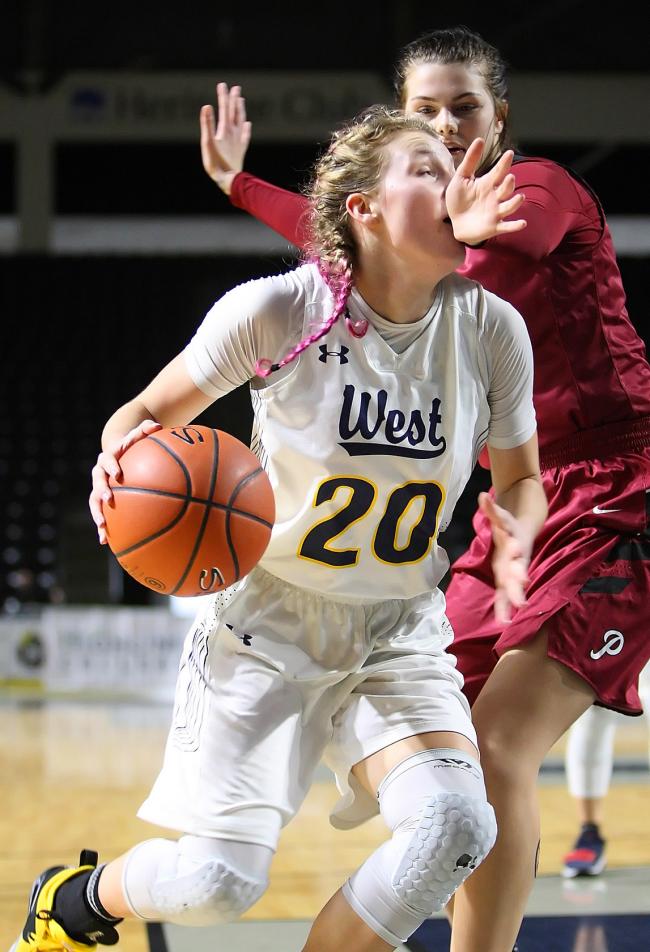 Kurt Howard
Tue, 01/22/2019
By Gerardo Bolong
CONTRIBUTING WRITER
KENT - In a battle of state contenders, Greater St. Helens League 3A Prairie outlasted 3A Metro West Seattle for a 58-50 victory in girls basketball action at the ShoWare Center as part of the King Showcase presented by Icelandic Glacial.
On a Mon.,Jan.  21, afternoon honoring the memory of Martin Luther King, Jr., the game turned the way of the Falcons in the opening moments of the third quarter.
Meghan Fiso's short range jump shot tied the game at 29-all for WS before the poise of No. 3 state ranked Prairie (15-1) took effect.
Five consecutive Falcon points then preceded a Grace Sarver lefty lay up that kept the Wildcats (13-3) close at 34-31 with just more than six minutes remaining in the quarter before the calm and methodical Prairie team really took charge with 2:21 showing and the score still at 34-31.
Cassidy Gardner pumped home one of her numerous three-pointers ahead of Falcon steals and easy inside shots that flew the Prairie lead to 42-31 after three quarters.
"They out executed us," said Fiso, who scored 10 fourth quarter points as part of a 14-point second half. "They're really good with their big girls. We just have to keep moving forward."
Fiso kept moving forward to score a game total of 19 points.
The Falcons kept at least an eight point lead while extending the margin to 13 points twice, the last at 54-41 with 2:02 remaining in the fourth quarter.
Jasmin Gayles and Grace Sarver joined Fiso to reduce the deficit to 55-48 with 29 seconds left, but the Falcons dug in to hold state ranked No. 5 West Seattle at bay.
In the beginning, quick ball movement opened up the court for three-point goals by Kelsey Lenzie and Jasmine Gayles. Sarver's short range basket shot the Wildcats to an 8-0 lead.
Prairie methodically worked its way back to take a 13-11 lead before a Fiso bucket tied the score at 13-13 heading into the second quarter.
The furious Falcons from the Battle Ground School District inched away to a 20-15 margin ahead of Jayla Wilson's three-point bomb that capped a five point Wildcat surge.
WS took a brief 23-22 lead later, but the Falcons retaliated to lead 29-27 at the half, thus setting up Prairie's 12-4 third quarter dominion.
Getting mentally and physically prepared for state competition fits the overview of such an encounter of top tier teams.
"Sometimes, we settle for the outside shot too soon," said Wildcat head coach Darnell Taylor. "...trying to get the girls to see (chances) to attack the lane. We need to tighten up our defense and move the ball better and we'll be fine."
Steady Wildcat guard Sarver notched 13 points and corralled nine rebounds - four on the offensive end. Gayles added nine WS points.
Senior guard Gardner nailed five three-pointers in her 19 point total to pace Prairie. Brooke Walling poured in 15 points while Meri Dunford added 13 points and nine rebounds.