Sentinels outquick Bulldogs
Sentinels outquick Bulldogs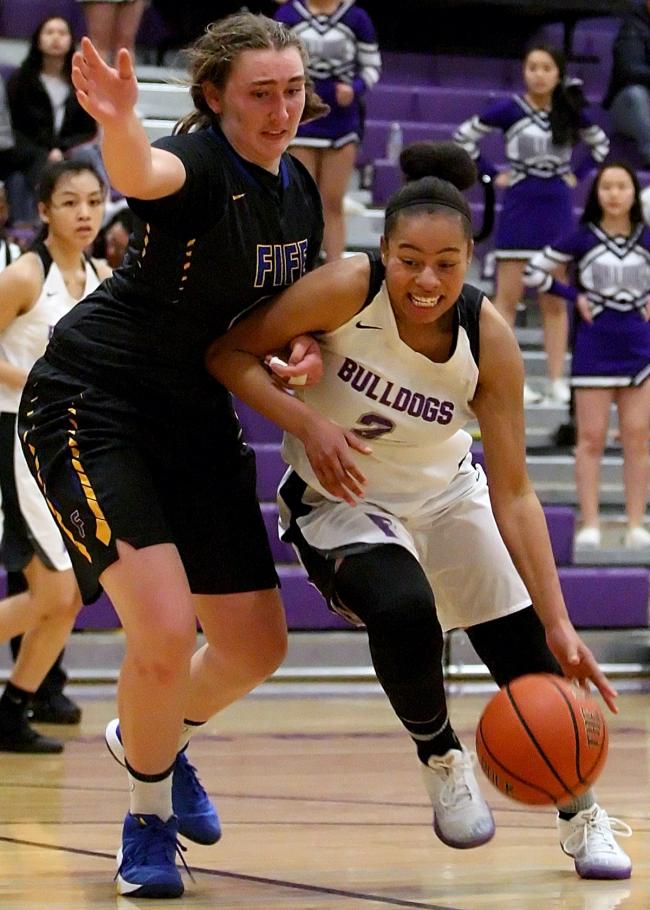 Kurt Howard
Sun, 02/03/2019
By Gerardo Bolong
CONTRIBUTING WRITER
TACOMA - Steilacoom capitalized upon Foster sluggishness to speed by the Bulldogs 72-58 in the third-fourth place SPSL 2A boys basketball tournament game held at Foss High School on Sat., Feb. 2.
Foster (15-8) will open West Central District as the home team against Olympic on Wed., Feb. 6.
Dalesky & Black Gymnasium proved to be a slippery slope for the Foster five as the Sentinels were just quicker throughout the match up.
"It was just an [energy] hangover (from a 64-61 Friday loss at Renton)," said Bulldog head coach Robert Graham Sr. "You just can't have that. We'll build up for the next game"
The fast paced action began with Foster getting blistered in the form of Sentinel steals and close range shots that accelerated a 10-3 first quarter to 35-23 with just more than two minutes until the halftime intermission.
The Bulldogs were a step behind on offense and defense regularly.
Consecutive baskets from Drew Hill plus a Jaylen Fayson free throw sent the squads into the break with Foster trailing 35-28 at the half.
Jalen Fayson's turn around jump shot placed the Bulldogs within 37-32, but the explosive quarter featured Steilacoom gradually extending control to 16 points at 59-43 just seconds into the fourth quarter.
Foster drew within 59-50 behind Fayson, Antelope Hair and Isaiah Ford with 5:37 to go, but the Sentinels accelerated away again to lead 66-50 in the way to victory.
Hill led the Bulldogs at 16 points as Ford added 13 and Fayson notched 12.
Devin Asaeli scored from everywhere to accumulate 24 Steilacoom points. Nehemiah Shird contributed 16.
Comments
Lost was at Franklin pierce Friday not Renton Foster has beaten Renton the last two outing.
Add new comment