Rams beat Lancers on putback
Rams beat Lancers on putback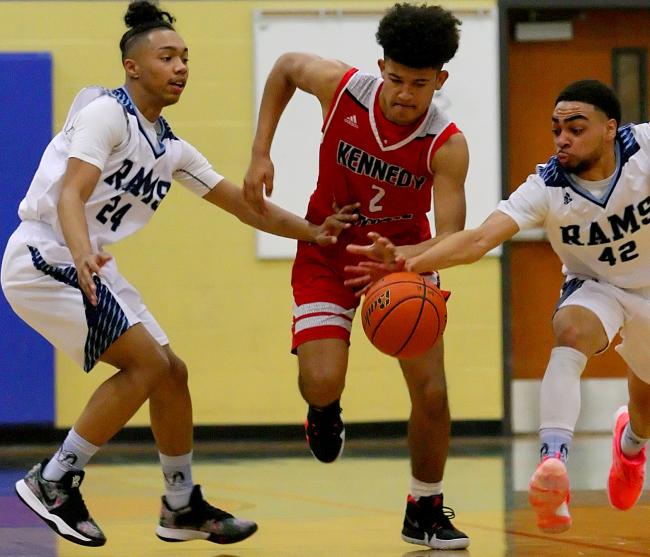 Kurt Howard
Mon, 02/11/2019
By Tim Clinton
SPORTS EDITOR
Yadel Hedego popped in his own putback with 0.3 seconds left to lift Mount Rainier to a 69-67 victory over Kennedy Catholic in the Class 4A West Central District boys basketball tournament opener for both teams.
"When I missed it I wanted to get the ball no matter what," said the 6-foot, 7-inch senior center after Thursday's game in a loud and packed Mount Rainier gymnasium. "I just wanted to put the ball in."
"That putback at the end was a beautiful thing," said Rams head coach Brandon Horstman of the short right-side shot. "That kid has worked so hard. He was in foul trouble all night, but he made it count when it counted."
It was the third close game of the year between the Rams of Des Moines and the Lancers of Burien.
Kennedy Catholic won the first meeting by a 61-59 score in overetime in its gym and Mount Rainier won the second by a 57-54 margin at home.
"We've had three of those with them," Horstman said. "That was a tough first round district game. Our guys never gave up. I'm proud with how they came through."
Horstman was more than happy to get the win in hand, especially since it is not known when the next game will even be played.
Saturday's scheduled game at Mount Tahoma – and Kennedy's Saturday loser-out game at Foss – were already postponed because of the forecast of heavy snow.
"They cancelled Saturday already, and they have yet to tell us when they will reschedule it," Horstman said after Thursday's game.
The snow arrived as predicted, and more is predicted Monday and Tuesday, so it could get dicey.
Mount Rainier carries a 15-6 overall record into the next game whenever it will be played, and Kennedy Catholic now stands at 10-11.
As for Thursday's game, the Rams took control in the early going by as much as a 17-8 score in the first quarter, but Kennedy trimmed it to 38-36 at the half on a layup by Junior Alexander at the buzzer.
The Lancers caught the Rams at 60-60 on a Jamare' Childs 3-point shot with 3:52 remaining in the game, and slipped ahead on a basket by Michael Spitzer and an underneath score by Sam Huard that made it 64-60 with 2:37 remaining.
Amanuel Gebreziabher of Mount Rainier drew a foul on his way to the hoop and made his free throw to make it 64-63 at 2:19 to go before teammate Ricky Bell struck at 1:34 for a 65-64 Rams advantage.
Huard put the Lancers up, 66-65, at the 57.3 second mark on a steal and score, and Mount Rainier went ahead again, 67-66, as Gebreziabher scored while falling away from the hoop at 35 seconds remaining.
Childs tied it with one free throw in two attempts with 29.2 seconds left, before the two teams traded misses leading up to Hedego's miss and putback to win it.
"I had to do whatever I could to make us win," Hedego said.
Gebreziabher led the Rams with 25 points and Bell hit 20. Michael Nelson knocked in nine as Hedego added eight and Kolten Lerwick four.
Huard and Spitzer led the Lancers with 17 points apiece. Hilliard also hit double figures at 10. Alexander scored seven, AJ Keys and Adam Olufson six each and Childs four.