At large in Ballard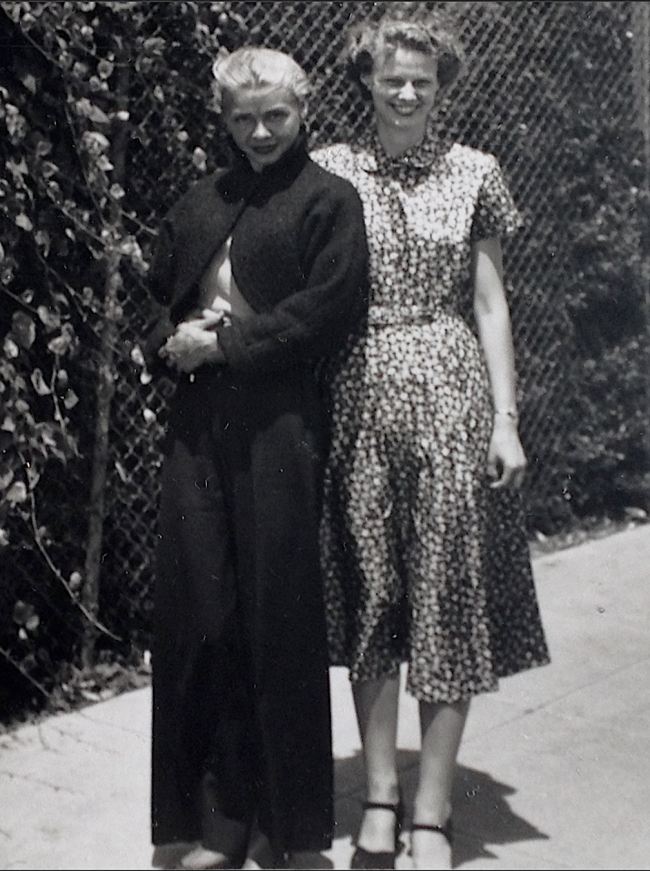 Mon, 02/18/2019
By Peggy Sturdivant
Dear Gerry Hansen,
This is a fan letter, a farewell letter, a love letter to a woman who was born in Ballard and plans to die in Ballard, in her home, the same way that she was born. (Although not on the kitchen floor.)
My friend Gerry began saving her babysitting money when it was encouraged by her homeroom teacher at Ballard High School back in the 40s. She never stopped saving money and was able to buy a home in Ballard as a single woman in 1969, and own it to this day.
This is a thank you letter to a woman who has typed me letters for years on a manual typewriter, then signed her name in perfect Palmer Method cursive. We met only once in person but she has been in my life since she revealed herself to me, and I've been in hers since she started reading my column in then "Ballard News-Tribune."
After we met I would sometimes telephone her at the number she's had most of her life. She said more than once, "Oh Peggy, I hope you will still be writing your columns at least for as long as I'm alive."
In the last year I've let her down many more weeks than I have delivered.
My friend Gerry doesn't have a computer, but she has a mailbox. Through her mailbox she has kept up a correspondence with friends and relatives in Norway, many nieces, and fan letters to me, though very different than the ones she wrote as an official member of the Vera-Ellen Fan Club.
I have a file folder of my letters and cards from Gerry. She provided column-by-column responses but also shared details of her lifetime in Ballard, and that of her family in a three-generation home near what's now Ballard Corners Park. In addition to honoring her parents Kaare and Helen Hansen with plaques at the Leif Erikson statue and Nordic Museum she submitted one chapter of "Hansen Family Genealogy" to the museum. She also organized and catalogued all of the Breidablik's Daughters of Norway Lodge No. 10 materials for donation. As she wrote to me, "I feel like I am leaving an important legacy." I tried for years to convince her to do her own oral history, but she insisted that for her, it was "too late."
Many people have told me that before they met me in person they pictured me as being tall. Before I met Gerry Hansen I pictured a petite older woman, soft as the curves of her penmanship. Gerry was very tall, and her grip was strong. The one time we met she served me special cheese and recommended a combination with peanut butter.
When I'd call she'd first sound unwell, or at least unlike herself, but then gain strength warming to the topic. She would sing praises of her extended family, dear nephew and nieces, of Mary and Jan mothering her, and the neighbors who looked out for her. Sometimes she'd have her nephew drive her past the old family home on 63rd NW. The house still stands tall.
While Gerry was hoping I would keep writing, I was hoping this small, local newspaper would keep printing while she was alive. The last few years I have felt like I was writing the column for her, and other "only in print" readers out there. For me 'Old Ballard' means my friends in Ballard who really are old. Or at least older, and usually taller than me.
Dear Gerry, I really have been writing for you, because I knew you were waiting for the paper, whether on doorstep or mailbox. I was writing because you said that seeing my smiling face in the paper added "sunshine" to your day.
It will not be a surprise if this print publication ends; perhaps what's surprising right now is that it continues in our online world. Ballard seems more of a city than it was back when it was officially a city. But now there's no local newspaper office, no photographers, no reporters or editors. All over the country local newspapers are dying, And now Gerry, so are you.
Thank you for being my reader, my pen pal, my friend. I thank you always for the unexpected Ballard Blossom flower delivery that glorious day which finally allowed me to track you down. Ballard Beaver. Boeing retiree. Thank you for being one of Ballard's greatest gifts to me - and for sharing this life well lived.