Bombers sink Rams at state
Bombers sink Rams at state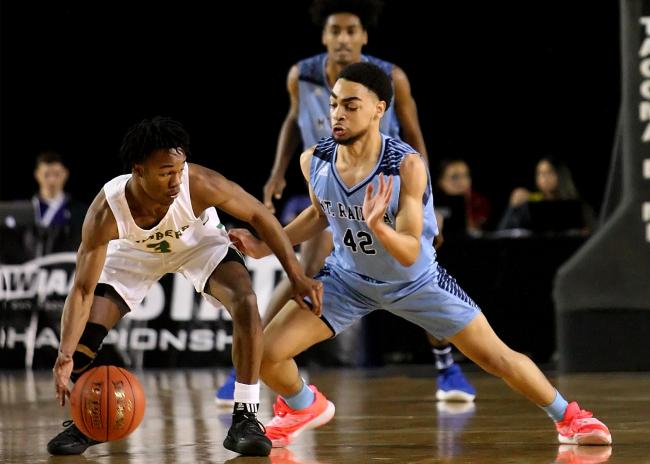 All photos by Kurt Howard
Thu, 02/28/2019
By Gerardo Bolong
CONTRIBUTING WRITER
TACOMA -  Fifth - ranked Richland jumped all over the No. 13 seeded Mt. Rainier boys basketball team to record an 81-51 4A win in a loser-out game of the 2019 state Hardwood Classic at at the Tacoma Dome on Wed., Feb. 27.
Ram head coach Brandon Horstman nailed the basic problem down clearly.
"I wish a few more shots would have fallen ... to put us in a more competitive game," he said. "It never got to that point, but credit goes to Richland and how they played."
The Bombers displayed offensive sharpness from the outset against a combination of missed Ram shots on good opportunities plus taking advantage of an energetic, but mistake prone MR defense that propelled Richland High School to a 10-2 first quarter lead and a 15-8 margin going into the second quarter.
Richland continued getting the ball to the rack regularly, finding outside chances, as well, en route to a 20-point lead at 28-8 with 2:39 until halftime before settling for a 34-14 intermission lead based on 15 of 26 from the field against MRHS's 4 of 33.
Mt. Rainier settled for outside jump shots, but even struggled to make shots from close range as the Bombers just kept extending the lead. Richland started downing shots regularly from beyond the three-point arc in the second half behind leading scorer Colten Northrop who finished with a trio of treys as part of his game high 24 points and led by 38 points twice in the fourth quarter.
For the game, Richland shot 50.8 percent from the floor against the 23.6 of Mt. Rainier.
Amanuel Gebreziabher tallied 18 points for the Mt. Rainier Rams while Michael Nelson played strongly in the second half to add 13. Kolten Lerwick contributed eight points.
Dhaunye Guice and Cody Sanderson  notched 12 points apiece for the Bombers. Garrett Streufert added 10.
Richland (21-4) moved on to face Federal Way in a Thurs., 12:15 p.m.  elite eight match up.
After finishing second in the NPSL Cascade division, the Rams worked their way through a strong playoff run. 
A 69-67 district win against Kennedy Catholic and a huge 59-58 victory against regular season division champion Kentridge highlighted a nice tournament run for the Rams.
The Rams traveled to Ellensburg to destroy Wenatchee 73-50 in a recent state regional as a qualifying win for the Tacoma Dome.
"It was a great year for us," concluded Horstman.
Roster players for the Mt. Rainier (18-9) state 2019 4A Hardwood Classic were Ricky Bell, Wilkens Dolce, Isaiah Fulmore, William Gard, Amanuel Gebreziabher, Yadel Hedego, Mitchell Henry, Kolten Lerwick, Erik Lu, Michael Nelson, Julian Rahn and Robert Wright.
Assistant coaches to head coach Horstman were Tremain Mack, Joshua Jacobs, and David Nguyen.