West Seattle girls qualify for state hardware
West Seattle girls qualify for state hardware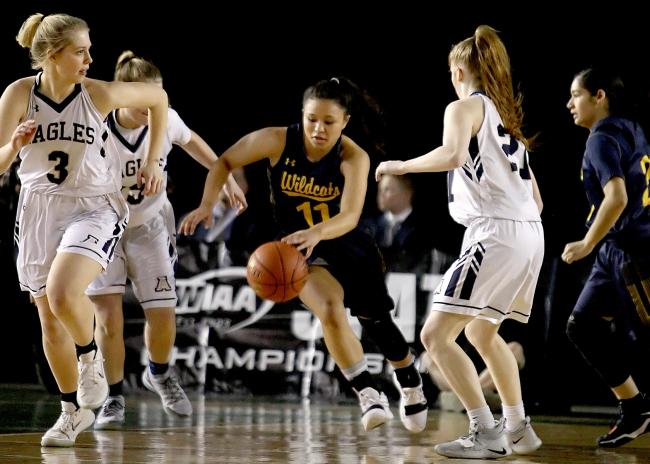 Kurt Howard
Sat, 03/02/2019
By Gerardo Bolong
CONTRIBUTING WRITER
TACOMA -  Tenacity turned the tide down the stretch for the West Seattle girls basketball team in a 50-42 victory against 3A Metro foe Roosevelt on Friday morning of March 1, at the Tacoma Dome.
The WIAA/DairyFarmersWashington/LesSchwab Tires Hardwood Classic win prolonged the West Seattle (20-6) season into an 8 a.m. roll call against Snohomish on Sat., March 2, in the fourth-place, sixth-place game.
"We've been in this situation before (playing a morning game after losing a tough game the day before) when we finished third last year," said Wildcat head coach Darnell Taylor. "The big thing was familiarity with our opponent."
WS defeated Roosevelt 59-51 on Jan. 18.
In this edition of the Roughriders versus Wildcats, Kelsey Lenzie snapped off a pass to Jasmine Gayles for a lay up with 5:11 remaining in the fourth quarter to send West Seattle back into the lead for good at 39-38.
Many more anxious moments ensued before the Wildcats could claim victory, however.
Gayles stepped up for a basket 64 seconds later. West Seattle capitalized on a Roughrider offensive foul to claim possession and immediately called time out at the 4:06 mark.
Meghan Fiso then rebounded and passed to Gayles to up the score to 43-38.
Six-foot, two-inch Katie Thier forced her way inside for a Roosevelt basket, but Fiso converted a pair of free throws after being fouled on a put back try to restore the WS lead to five at 45-40 with 2:11 to go.
Roosevelt produced a basket to trail 45-42, but Lenzie went way downtown on a three-point howitzer well beyond the top of the key arc to give the Westsiders true breathing room at 48-42 with 38.5 seconds remaining.
Grace Sarver rebounded a missed Roosevelt shot 12 seconds later.
The Wildcats worked time off the clock, forcing the Roughriders to foul Gayles, who swished in two free throws for the final tallies.
Fiso corralled key rebounds of the fourth quarter stretch run that limited Katie Thiers' effectiveness.
"My shots weren't going," she said. "But I just had to focus playing hard defense."
After no rebounds in the first half, the Wildcat junior finished on five fourth quarter rebounds with her four points.
Jasmine Gayles was the consummate power player with a team-high 21 points while taking over parts of the final quarter in stopping Thiers.
"We knew we were undersized, so when we knew it was on her side, we had to make sure we were staying in front...,' she explained. "...staying in front of her and then having the back side come on the help side was really important. We had to make sure we were rotating correctly. That helped us stay connected strategically and mentally in the game."
Familiarity worked in behalf of Roosevelt in an eight point blitz to open the game.
Sarver assisted to Fiso to get the Wildcats on the board, but Roosevelt notched a hoop to keep its lead eight, 10-2.
Kelsey Lenzie found her accuracy from three-point range to drill a trey ahead of a Sarver free throw. 
Thiers pounded home a basket that was countered by Lenzie's three-ball to keep West Seattle within 12-9 after one quarter. Gayles downed a three-pointer to initiate the first of two ties, ending with a 14-14 standoff with just less than seven minutes still left in the second quarter.
Thiers scored from inside ahead of a Jayla Wilson, lefty three-pointer and West Seattle went ahead.
Not to be outdone, the Roughriders rode back to obtain a 22-17 lead midway through the quarter.
As Ciera George put in some good relief work for WS, the Wildcats pushed back again despite missing some excellent shot opportunities.
Lenzie struck for a three-pointer after a Sarver free throw drawing the Wildcats within 22-21 as 1:48 halftime intermission remained.
After West Seattle stole the ball, Gayles regained the lead for WS, 23-22, with the Wildcats winging quickly on offense and defense.
Gayles countered a Thiers lay up on an athletic reverse lay up put back for a 25-24 Wildcat lead at the half.
Lenzie opened up the second half on an accurately angled three-ball that was followed  by a Sarver steal that enabled Lenzie to pop home a short range jump shot and extend the West Seattle lead to 30-24. Thiers responded for Roosevelt on six consecutive points to tie the fray 30-all with 3:52 in the third quarter.
The teams continued to engage in combat until the nip and tuck encounter found the Roughriders barely ahead, 34-33, heading into the fourth quarter.
Sarver was fouled on a reverse lay up try and drained two free throws. Gayles was the recipient of a Lenzie assist to make the score 37-36 in favor of the Wildcats with 6:25 remaining.
Roosevelt called a full time out before a Payton Dukes driving lay up earned the Roosevelt Roughriders a final lead at 38-37 with 6:11 showing.
Playing a final trophy game was a big motivator for Lenzie, as well as her fellow seniors.
"It was a loser-out, and I didn't want to end on a loss," she said. "It's still really good. I found my shot after being off for the first few games."
Lenzie used a pair of three-point goals in each half to augment her game total of 14 points along with three assists.
Wilson struck for six points while Sarver rushed for 10 rebounds with her five points and five steals.
Thiers was formidable for Roosevelt on 12 of 15 from the field and 24 points as well as leading her team in rebounds at seven. Karmelah Dean scored eight points while stealing the ball eight times.
Seniors Anissa Babitu, Jasmine Gayles, Kelsey Lenzie, Grace Sarver and Jayla Wilson will suit up a final time for the Blue and Gold against the Snohomish Panthers.