West Seattle rally comes up short in state trophy game
West Seattle rally comes up short in state trophy game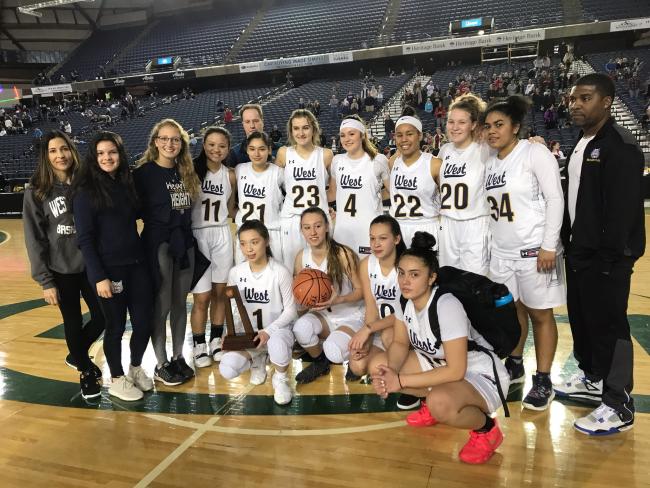 Gerardo Bolong
Sat, 03/02/2019
By Gerardo Bolong
CONTRIBUTING WRITER
TACOMA - Crunch time came back to bite the West Seattle girls basketball team in a 38-33 loss to Snohomish on Sat., March. 2, in a consolation trophy round game of the 2019 3A state Hardwood Classic.
The Wildcats finished their season at 20-7 for sixth place hardware after last season's third place trophy winning effort.
"I thought they executed well and felt we were in position to win with what we had," said WS head coach Darnell Taylor. "The real tale of the game was the baskets that rolled around the rim."
Julianna Horne's corner three-pointer followed by a pair of free throw conversions from Grace Sarver knocked a 36-28 Panther margin to 36-33 with 2:48 remaining in regulation time, but the rally stalled after that.
West Seattle kept forcing Snohomish shooting clock violations, but turnovers kept the Wildcats from advancing further until just less than 56 seconds remained.
Snohomish fouled inside of 42 seconds to force an out of bounds play for WS, which had not fouled enough to reach the penalty free throw situation. WS finally sent the Panthers to the foul line with a one-and-one charity toss situation with  37 seconds left
Maya Duchesne missed the first free throw and Meghan Fiso claimed the rebound for the Wildcats.,
With a chance to tie, West Seattle passed the ball over the end line for a Panther possession at 21.7 seconds.
Forced to foul, West Seattle sent Duchesne back to the line after a Snohomish Panther time out.
This time, Duchesne drained both free throws and the Wildcats were still unable to score as the clocked wound down the season and careers for the seniors in a 38-33 loss.
"I really enjoyed the experience," said Wilson. "I've been playing with some of my teammates since fourth grade. It was still fine to end up in sixth place after being third last year."
Sarver talked about toughness and recalled highlights of her career besides last year's state third place.
"We just couldn't get a basket (at the end)," said the tough senior. "I enjoyed playing with my sister as a freshman and with all my teammates."
After senior Kelsey Lenzie delivered an emotional vocal rendition of the National Anthem for those present at the 8 a.m. tip off in the Tacoma Dome, she joined fellow senior starters Jasmine Gayles, Jayla Wilson, Anissa Babitu, and Sarver for total Wildcat basketball.
West Seattle's defense got in synch to set the offense for an early 4-0 lead, but Snohomish rallied for a 5-4 lead that stood up until Gayles angled home a three-ball and an inside basket for a 9-7 lead for the Westsiders heading into the second quarter.
Fiso scored off a Sarver assist and then added two fee throws, extending the West Seattle lead to 13-5 as the quarter opened, and WS gradually fell victim to a resurgent Panther attack.
Snohomish cut the gap to one point twice before halftime at 14-13 and 16-15.
With 1:36 until the klaxon sounded for halftime, Gayles maneuvered for an inside the paint hoop ahead of three consecutive Snohomish points that gave the Panthers a 20-18 halftime edge.
Continuing to use youngsters Ciera George, Brielle Martin, Ashley Young and Emily Buchanan in selected situations, coach Taylor was giving them a baptism of future, more prolonged floor minutes.
"I was trying to incorporate them a lot and still close out the game with a win," added Taylor.
Snohomish lengthened the Panther distance from West Seattle to seven points at 29-22 midway through the third quarter. Fiso scored the final basket of the quarter to make the score 29-24 as the fourth quarter beckoned.
Six-footer Courtney Perry worked inside for a basket followed by an Ella Gallatin three-point goal to open up a 34-24 Panther distance.
Rebounding was an extremely difficult challenge for WS, but back came the Wildcats on a Fiso penetrate to the rack basket. Sarver fed a pass to Julianna Horne for lay up to create a 34-28 score as 4:03 showed on the game clock.
Kayla Soderstrom netted a basket from the weak side for Snohomish to produce the 36-28 score in advance of the Wildcat last gasp rally attempt.
Throughout the career of the seniors, they regularly battled taller teams on the strength of constant motion, hustle and desire.
Coach Taylor put the closer on the conclusion of the distinguished senior class career.
"There was the growth of them from freshmen to seniors in big games," he concluded. "It was great to see it."
Gayles closed out the game on 11 points with seven boards.
Fiso scored nine and added six caroms, while Sarver got into foul trouble early, playing the final quarter with four fouls, on the way to six points. Horne combined five points and three steals. Wilson concluded the game scoring by posting two points.
Courtney Perry was strong from the field for 13 Panther points and also contributed 10 rebounds. Kinslee Gallatin scored nine points.