Capital eliminates West Seattle boys
Capital eliminates West Seattle boys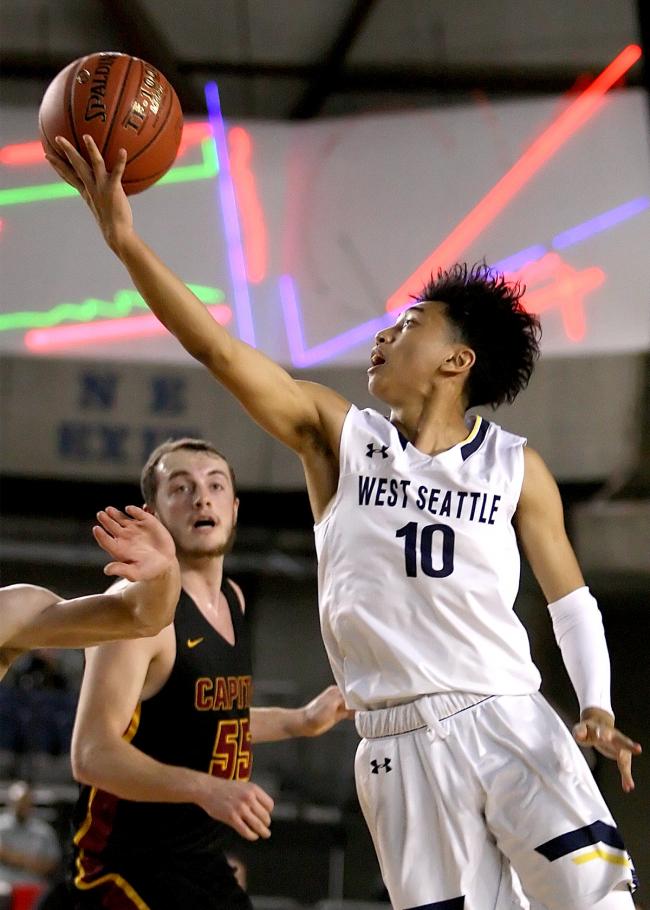 All photos by Kurt Howard
Mon, 03/04/2019
By Tim Clinton
SPORTS EDITOR
TACOMA--Capital's Cougars clawed their way to a 48-41 victory over the West Seattle Wildcats in a loser-out Class 3A boys basketball state tournament opener at the Tacoma Dome Wed., Feb. 27.
Nuh'Kosi Roberson put West Seattle within two points at 43-41 with a three-pointer with 1:44 to play, but Chris Penner of the Cougars answered with a three with 25 seconds left to make it 46-41 and iced a pair of free throws at 8.8 seconds remaining.
Penner finished with a game-high 26 points to pace Capital.
"Chris Penner finally awakens," said Cougars head coach Brian Vandover. "He had been struggling."
West Seattle trailed, 33-23, with 1:40 left in the third quarter before battling back for a 34-33 lead.
Roberson hit two to spark the rally before Roman Barnet buried a three. Roberson hit two more at the third quarter buzzer to make it 33-30.
Sage Nelson knocked in two more to open the fourth quarter to clip the lead to 33-32.
After Capital lost the ball out of bounds, Roberson tipped it into the hoop from out of a crowd underneath to make it 34-33 West Seattle with 6:53 remaining.
"They felt the urgency, but we relaxed a little bit on defense, too," Vandover said of the Wildcats' streak.
Grant Erickson of the Cougars ended the rally with an inside score at 6:20 to go.
Barnet tied it again with a free throw at 5:10 ahead of a Penner three at 4:14 and a Roberson three at 3:53 to make it 38-38.
But Penner gave his team the lead for good with a three at 3:29 and added two more at 2:50.
Roberson led West Seattle with 17 points as Abdullahi Mohamed hit 11. Barnet scored six, Vladimer Salaridze three and Nelson and Maar Rambang two each.