Ballard HS wins in overtime over West Seattle at T-Mobile Field
Ballard HS wins in overtime over West Seattle at T-Mobile Field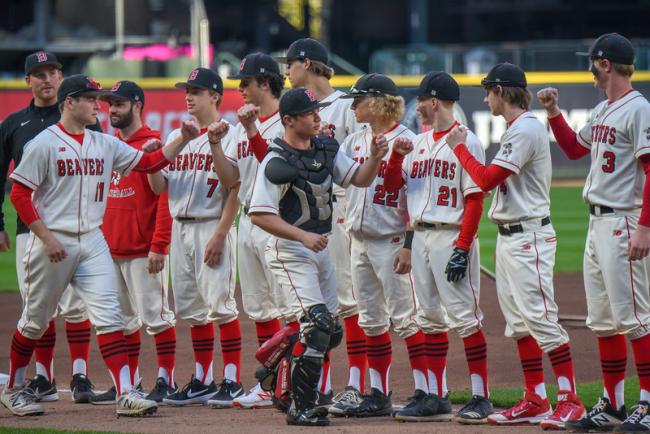 Bruce Miyake
Tue, 04/23/2019
With the Ballard High School Beavers leading by a slim margin of 2-1, the team turned to Roc Ransden, a junior and normally an outfielder, to take the mound as the closer in the overtime inning.  It proved to be a wise choice.  Ransden, pitching for the first time all season, successfully held Ballard's lead and closed out the game.  
This was the third meeting between the two teams.  Ballard High School came into the game with a record of 15 wins and three losses.  One of those loses came on April 15, 2019, to West Seattle High School in a 2-1 thriller.  
In this game, Ballard scored a run in the first inning.  From that point, the game was a defensive struggle with Ballard using a different pitcher in each of the innings.  This strategy seemed to work as they held that lead until the sixth inning when West Seattle tied it up with a run. 
Neither team was able to score in the final seventh inning and the game went to extra innings.  In the top of the eighth inning, Ballard's Matthias King loaded the bases when he hit a bunt.  With the game on the line, West Seattle's pitcher hit Ballard High School senior Sam Cooper which resulted in a walk in run and the lead.  That's when the Beavers called on junior Roc Ransden to pitch.  It was a risky move since Ransden had not pitched all season and is normally an outfielder.  Ransden proved to be up for the task and pitched like a veteran.  He easily got West Seattle's first three batters out and ultimately saved the game.  
Both teams have college bound players.  Ballard senior Jay Dunbar is committed to pitch for the University of California.  West Seattle's catcher, Kai Osaka, is scheduled to play for Chapman University in Southern California and Reuben Gut is scheduled to play for Everett Community College.