Pirates drop Warriors from ranks of unbeaten
Pirates drop Warriors from ranks of unbeaten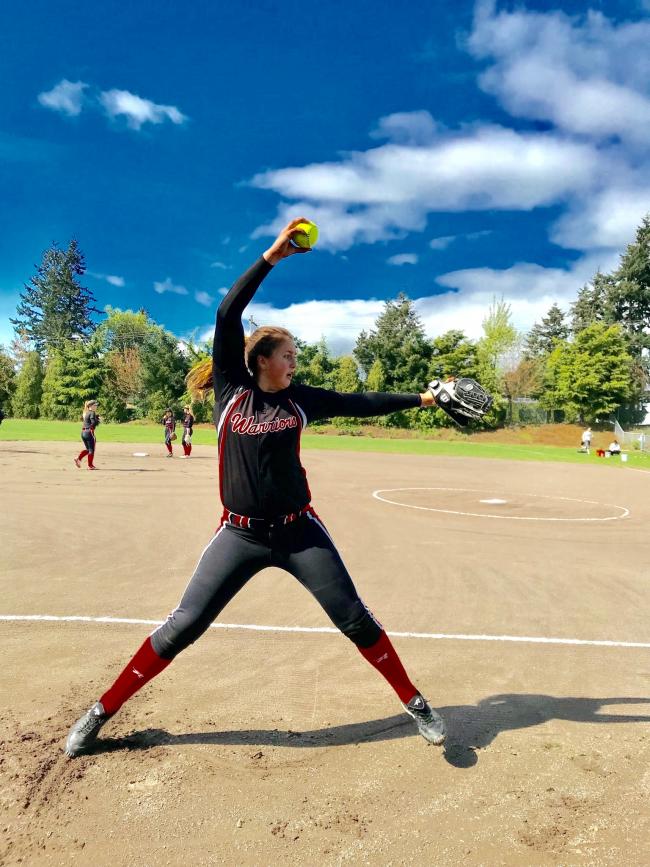 Gerardo Bolong
Wed, 04/24/2019
By Gerardo Bolong
CONTRIBUTING WRITER
Seattle Christian fought mightily in its fastpitch softball tiff against Vashon Island on Tues., April 23, but just came up short on the quest for victory.
Two Pirate runs in the seventh inning proved to be the final difference in 5-4 defeat of the home standing Warriors in a Nisqually 1A League match up that temporarily delayed the clinching of the top spot into district by the Warriors.
Vashon began its rally with a lead off batter reaching first base on an infield throwing error. A run-scoring single by Tamsen Henry tied the score at 4-4 as Vashon Island was able to bleed one more run home on a wild pitch to gain the lead.
SC got a one-out single from Olivia Clark in the bottom of the inning. After Alexa Moormeier reached first base the Warriors had the potential tying and winning runs on base. Justyce Porter delivered a sacrifice fly to right field for Clark's advance to third base, but Clark was stranded there to end the game.
Seattle Christian fell to 4-1 in league and 8-1 overall in its drop from the unbeaten ranks.  Vashon improved to 3-2 and 7-7.
"It really was a game of inches," said SC head coach Rick Ronish. "We had many hard hits that were right at players. And the drives that just went off the tops of players mitts for Vashon. The girls are learning to play more under pressure. We've succeeded with consistently good pitching."
In the beginning, Clark walked with two outs in the bottom of the first and later scored on a Moormeier single to give the Warriors a 1-0 lead.
From her catcher position, Clark easily gunned down a Pirate runner trying steal second base in the second inning to help stifle a potential Pirate rally.
With one out in the bottom of the second, Kaitlyn Royal reached base on a VI overthrow of first base on a ground ball. Anna Glynn followed with a fielder's choice ground ball that drew no play. A chip shot single by Anna McPherson loaded the bases for Kelsey Wieland to plate a run on an infield ground out.
After Vashon Island narrowed its deficit 2-1 on Olivia Larson's hard hit ball to shortstop in the top of third inning, the Warriors responded in the bottom of the frame.
It was Moormeier who drew a lead off walk ahead of wild pitch and an infield throwing error on a Porter infield ground ball that positioned runners on second and third.
Seattle Christian tallied a run when a wild pitch crazily spun after hitting the ground before literally crawling up the tall, metal fencing behind home plate before inching over the fencing. Royal came through for the Warriors on run-scoring ground out one out later and Seattle Christian increased its lead to 4-1.
Following a scoreless fourth inning, Henry hammered a deep fly that just skimmed off the top of the center fielder's mitt for an RBI triple. In a true game of inches, Larson then brought the Pirates within 4-3 after five full innings on a line drive single that skidded off the top of the second baseman's mitt.
This is how the situation remained until the deciding seventh inning.