Ballard beats Wildcats in 14th
Ballard beats Wildcats in 14th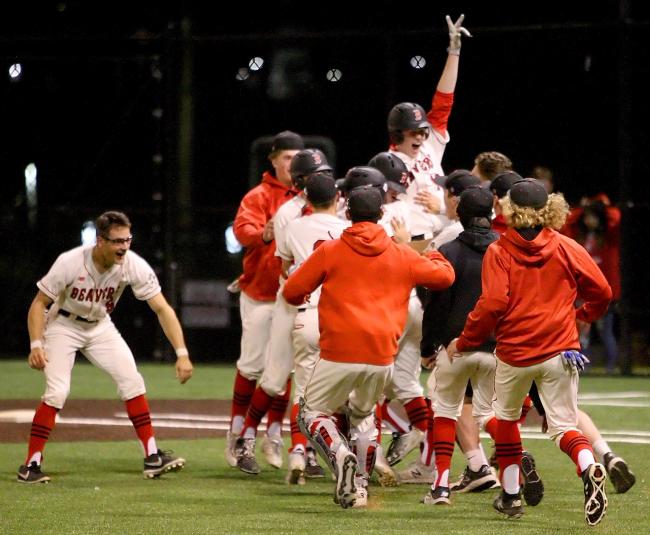 Kurt Howard
Sun, 05/05/2019
By Tim Clinton
SPORTS EDITOR
It was a matter of survival.
Ballard outlasted West Seattle, 8-7, in a 14-inning marathon of a Metro League baseball playoff Thursday at the Southwest Athletic Complex.
The Beavers ride the victory into a 7 p.m. Saturday semifinal against O'Dea at Mel Olson Stadium at Steve Cox Memorial Park in White Center.
The winner advances straight to the 6 p.m. Friday championship on the same field.
West Seattle must play a 10 a.m. Saturday loser-out game against Eastside Catholic at Mel Olson.
Chief Sealth, meanwhile, took a 4-0 loss Friday to Bainbridge in a loser-out game at Mel Olson.
More excellent Kurt Howard photos below
IMG_0046 Edited 5x7: West Seattle's starting pitcher Nathan Rasmussen sends one home.
IMG_0081 Edited 5x7: Outfielder Jean-Pierre Dufour of West Seattle dives and barely misses the ball.
IMG_0462 Edited 5x7: The ball gets by West Seattle's 1st baseman Isaiah Running as Ballard's Luke Petteruti dives back to first.
IMG_0725 Edited 5x7: Peter Furia of Ballard is greeted by teammates after hitting a three run home run in the 5th inning. 
IMG_1263 Edited 5x7: Nate Leibold of Ballard gets caught in a pickle between 2nd and 3rd and is eventually tagged out.
IMG_1326 Edited 5x7: Ethan Doshi of Ballard jumps high to catch the ball as West Seattle's Jaxton Helmstetler slides safely into 2nd base.