Warriors overcome Saints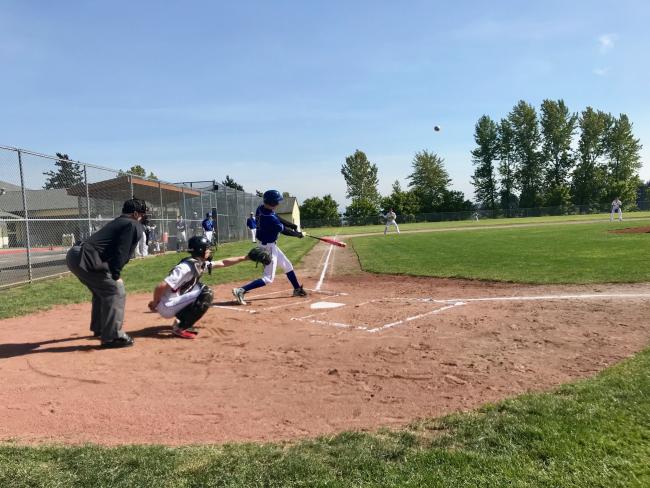 Gerardo Bolong
Sun, 05/05/2019
By Gerardo Bolong

CONTRIBUTING WRITER

Preparing for the upcoming high school baseball playoffs, 2B Seattle Lutheran visited 1A Seattle Christian with the home team Warriors earning a non league 11-1 win in five innings on Fri., May 3.

"We've had strong pitching and defense," Warrior manager Craig Wrolstad said. "We have a number of fast kids on the bases. It was good to pick up a game to prepare for the playoffs."
The Warriors (14-4) open 1A district action Tues., May 7, against Chimacum at 4 p.m. The game is scheduled at Curtis High School in University Place. 
The Saints (12-4) initiated first inning scoring with two out. 
Brandon Lick slammed a double through the left centerfield gap. Shortstop Jaiden Harrington followed with a base on balls. Drew Meyer then grounded a ball into centerfield for a 1-0 lead.
This would be their only tally of the game despite putting runners in scoring position in innings three through five.
SC answered with all the runs it needed in the bottom of the first.
Connor Knack's lead off, high bouncing single preceded Keaton Banister reaching base. A series of wild pitches enabled one run to score while Colin Heffernan rifled a base hit for a second run. SL committed a series of errors sandwiched around an infield single by Trevor Clute for two additional runs. The sixth run was delivered on an infield ground out by Sam Bock.
Seattle Christian added a pair of runs in the second inning. Fielding and throwing errors resulted in one run. Heffernan drew a one out walk, positioning him for an RBI double pulled into right field.
    The Warriors pushed two additional runs across in the third inning before finishing the event with a fifth inning run to force closure on the 10-run mercy rule.
David Kudenchuk pitched the first three innings for Seattle Christian. 
Banister followed with his school debut on the mound and managed a scoreless fourth inning.
"It's not my thing (as an infielder), but I tried. I've been asking for a chance."
Bock closed it out with a scorelessly pitched fifth inning.
For SC, Sichmeller batted 3 of 4 with a double and RBI.
"I'm starting to get back into it," said Sichmeller. "It's looking good and we're getting ready for the playoffs."
Also heading into post season action are the Saints.
"I'm glad to be out in the sun and get work in for the playoffs," said Seattle Lutheran head coach David Sleighter. "We need to make the easy plays. The smart plays."
Lick batted 3 of 3 including a pair of doubles and an RBI.
Seattle Lutheran hosts a first round District 2 game on May 9.