Bears focus on improvement
Bears focus on improvement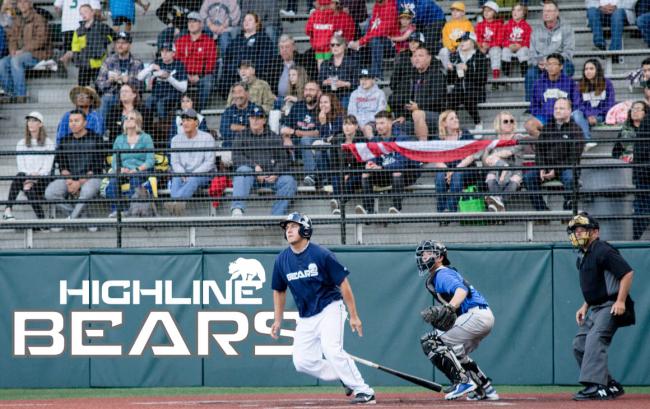 Mon, 05/27/2019
By Tim Clinton
SPORTS EDITOR
Highline Bears general manager Justin Moser feels his semiprofessional baseball team has an improved product this summer.
That's off the field, on the field, and to the field itself.
Mel Olson Stadium at Steve Cox Memorial Park in White Center, where the Bears play their home games, has received a serious facelift.
It boasts a brand new artificial turf infield that glistens in the afternoon sun, and fans will be greeted by rod iron gates.
"Between us and Seattle Prep (which uses the field in the spring), we got the turf replaced," said Moser. "And there are new rod iron gates so it looks like a pro ballpark. We've got a hidden gem here that a lot of people don't know about. Our goal is to continue improving the park and make it better."
Mel Olson Stadium already had covered grandstands, which is a rarity outside of pro parks and some of the bigger colleges.
Future improvements Moser is eyeing include a state-of-the-art artificial turf outfield to match the infield and getting a new scoreboard and moving it more to left field.
Off the field has always been a strength in the first four years of the mostly collegiate summer program, although the team has sometimes struggled on the field.
"You don't have to be a baseball fan to enjoy a Highline Bears game," Moser said.
The Bears have a wide variety of promotions coming up once again, including new ones.
"I deal mostly with the entertainment things for fans," Moser said. "We want to make it a bit crazier at the ballpark."
Another improvement is the food.
"It's not just snacks on the menu," Moser said.
Additions include pulled pork, Ivar's Clam Chowder and grilled cheese sandwiches.
Moser leaves on the field affairs mostly in the hands of manager Josh Evans, who is in his third year with the team, but he likes what he sees there as well.
"On paper we're the best we've ever been," Moser said. "There's more Division I players, Division 2 and Division 3 players, and higher end better performing junior college players. Josh Evans and the coaches spent all fall talking to college coaches. They've done a great job making us more competitive."
The roster includes Des Moines resident and Kennedy Catholic graduate Jared Thurber, an outfielder who plays for Washington State University.
Other outfielders are Dillon O'Grady (Auburn, University of Pikesville), Cody Chaves (Lake Tapps, Saint Martin's University), Jeffrey Fahnlander (Puyallup, Whitworth) and Levi Horner-Villla (Ho'Olehu, Hawaii and Linfield College).
The three catchers on the squad are Peyton Brock (Bonney Lake, Grays Harbor College), Chayson Dulatre (Pearl City, Hawaii and Saint Martin's University) and Owen Napieralski (Delta, B.C. and Louisiana State University Shreveport).
The infielders are Kenny Miller (Auburn, Yakima Valley College), Tori Doten (Salem, Ore. and Pacific Lutheran University), Zach Spradlin (Hoquiam, Grays Harbor College), Cole Chambers (Graham, Texas A&M Texarkana), Micah McNicoll (Kaneohe, Hawaii and Saint Martin's University), Dakota Hill (Roy, Saint Martin's University), James Kobylt (Los Angeles, Calif. and the University of Washington) and Kealen Martin (Lake Stevens, Kansas Wesleyan University).
The Bears' pitching staff consists of Cole Trotignon (Shoreline, Shoreline College), Matt Franceschina (Kent, Pacific Lutheran University), Colton Borg (Sumner, Lourdes University), Danny Shafer (Auburn, Washington State University), Elliott Payne (Kirkland, Olympic College), Cameron Jenkins (West Richland, University of Jamestown), Cole Connolly (Milton, Texas A&M Texarkana), Brandon Lewis (Black Diamond, undecided), Michael Jarvis (Seattle, Grays Harbor College), Andrew Curran (Puyallup, Pacific Lutheran University), Riley Mallot (Duvall, Cabrillo Community College), Blake Wichert (Chehalis, Southern Nazarene University), Jalen Cope (Fife, Providence Christian College), Josh Sivonen (Tacoma, Pierce College) and Trey Woodworth (Bonney Lake, Skagit Valley College).
Admission to Bears games for adults is $8.00, with $5.00 admission for youth and seniors and free admission for children under eight.
That includes for the Saturday, June 1 at 7:10 p.m. opening game (against the Laces Baseball team), which has been designated Pack the Park Night, and other promotions.
"I don't think you can get more bang for your buck than coming out for a Highline Bears game," Moser said.
See the highlinebears.com website for more information.