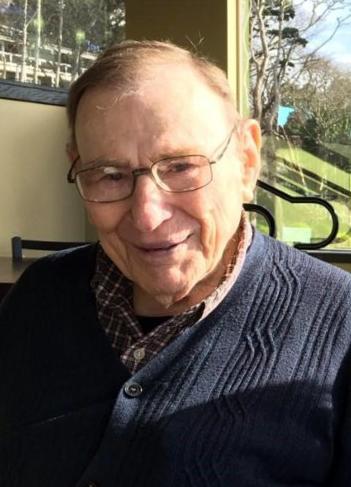 Harold Jr. Leonard entered into life on October 22, 1923 and entered into rest on May 13, 2019 at the age of 95 years and 7 months. He was born in Pleasanton, KS to Thomas and Janie Leonard, joining a sister, Freda.
He graduated in 1941 from Hume High School in Hume, MO, then went on to join the United States Marine Corp. During his time serving his country, he drove a tank on Peleliu Island and Okinawa. He was shot and hit with shrapnel that remained in his body all his life as well as a bullet that remained lodged an inch from his heart. He was awarded the Purple Heart and was discharged with honor on February 13, 1946.
He married the love of his life, Dorothy Arleen Lee on March 13, 1946. They set up their home in West Seattle where they began a loving Christ-filled marriage that lasted 73 years and 2 months. They adopted two daughters, Anna Lee (deceased) and Patricia. They were members of Hillcrest Presbyterian Church for over 70 years.
All his life, Harold loved to sing. He began singing as soon as he could talk and sang for people the rest of his life. His deep baritone voice added much to the church choir he sang in for years. He sang every day to his wife, his love.
Harold loved fishing almost as much as he loved his Lord and Savior Jesus Christ. He fished every chance he could. He built a house on Whidbey Island on the water and fished for salmon and cod. There wasn't a lake he would pass that he wouldn't want to stop and see if the trout were biting. He also enjoyed hunting with his father, his best friend Norman, and his daughter Patti. When he wasn't outdoors loving nature, he worked hard to support his family. He was a master mechanic and could fix anything. At home he would buy lawnmower parts, fix them and sell them. He was a millwright for Isaacson Iron Works in Seattle, and worked at the US Postal Service and the Boeing Co. His last job was at Intalco Aluminum in Ferndale, WA where he drove 248 miles round trip daily from West Seattle to work for 17 years. He retired in 1987 and enjoyed the next 32 years fishing and dreaming about fishing.
He leaves behind his wife Dorothy of 73 years, daughter Patti, favorite son in law Ron, five grandchildren and spouses, ten great-grandchildren and 4 great-great-grandchildren. A life well lived, he was a man well loved and admired by many. He will be greatly missed but knowing he is with his Heavenly Father and many loved ones now is a great comfort.
In lieu of flowers please donate to Providence Hospice of Snohomish County, 2731 Wetmore Avenue, Ste 500, Everett, WA 98201 www.providence.org/phhc