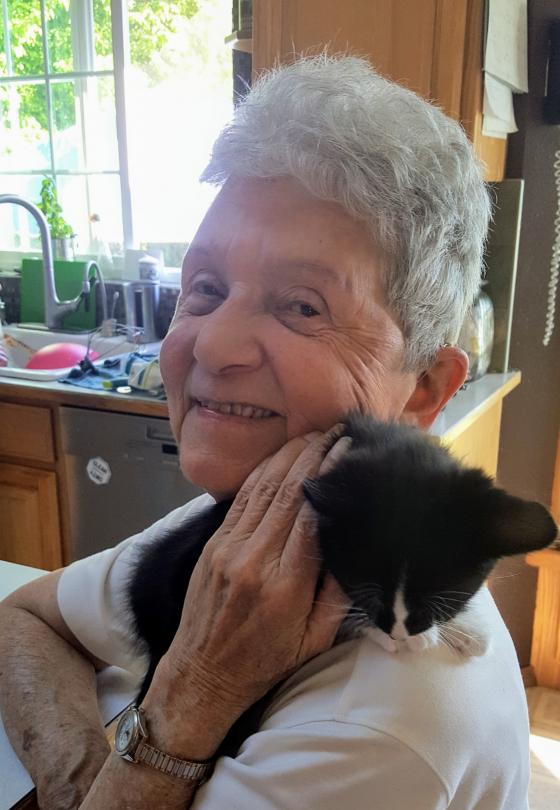 Mary Lou Grinols, "The Cookie Lady," 83, of Seattle, Washington, passed away on May 10, 2019. She was born in Spokane, Washington. She spent her school years in Stanwood and graduated from Everett High School in 1954. She was married to Glen Allen Grinols in 1956 until his death in 1983. She found love twice and was married to her second husband, Emlin Miller from 1991 until his death two years later. 
Mary had several jobs over the years, but her favorite was her last job working as a Lunchroom Cook for the Highline School District. It was there that she first took the title as "The Cookie Lady." Her lunchroom helpers loved the cookies and treats she would bring for them. She especially enjoyed baking cookies for the firemen and policemen of Seattle and Burien to whom she regularly delivered her goodies.
She is survived by her four children: Steven W. Grinols, Teresa J. (Don) Shaw, Juli A. (Neil) Cannon and Wendy L. (Richard) Sweeney. She had ten grandchildren: Kelsey, Ashley, Ryan, Blake, Leslie, Haylie, Carl, Levi, Rebekah and Naomi. She had 6 great-grandkids.
A memorial service will be held June 7, 2019 from 2- 4:00 pm at the White Center Eagles. In lieu of flowers, please donate to one of Mary Lou's favorite charities, WSCFF Burn Foundation, wscff.org.