University Prep (Seattle) edges out Seattle Christian for state baseball championship
University Prep (Seattle) edges out Seattle Christian for state baseball championship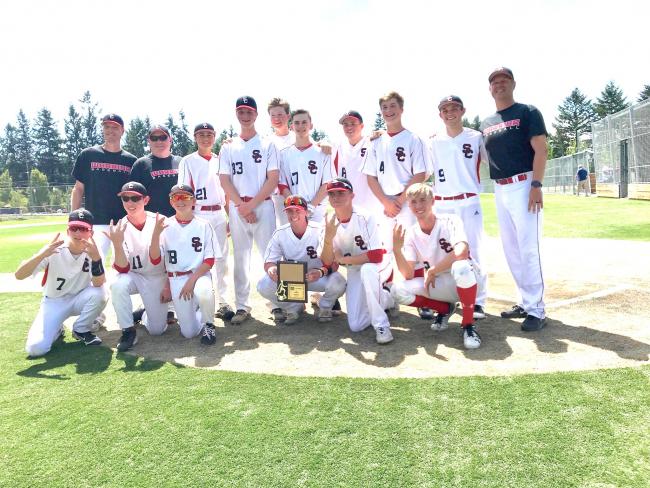 Gerardo Bolong
Sat, 06/01/2019
By Gerardo Bolong

CONTRIBUTING WRITER

Good pitching and solid fielding were notably absent early, but eventually entered the game to deny Seattle Christian a state title at the Yakima County Stadium.

Big time hitting in an eight-run third inning by the University Prep Pumas tore asunder a 5-0 Seattle Christian High School lead in a state championship 1A baseball 8-7 win on Sat., May 25.

The visiting team Warriors jumped into a 2-0 first inning lead before using clutch hitting and speed for a three-run third inning.

Holding a 5-0 lead, Seattle Christian then endured a nightmarish bottom of the third. Hits of all types started dropping for UP as the Pumas gradually powered back to tie and eventually lead the game on eight big runs.

SCHS fired back in the fourth inning to create a pair of runs before putting runners on second and third base with no outs in the top of the sixth inning.

Prep moved the infield in as left handed relief pitcher Cole Webster came to the hill for the Pumas to induce a pop-out to second and a ground out to third.

Nathan Crawford then saved the game for University Prep by racing over and making a diving catch just inside the left field line.

Seattle Christian had a one-out walk in the seventh inning, but the state championship dream ended there.

The Warriors stroked nine hits and committed three errors. U-Prep (16-7) earned eight hits with five errors.

For SCHS, Keaton Banister batted 3 of 3 and scored three runs. Connor Knack was 3 of 4 with an RBI while scoring two runs. In his 1 of 2 batting night, Colin Heffernan drove home a run while scoring one run. Trevor Clute notched two RBI.

Nisqually League and 1A West Central District III runner up Seattle finished a banner season with a 19-6 overall record.