PacWest pummels West Seattle
PacWest pummels West Seattle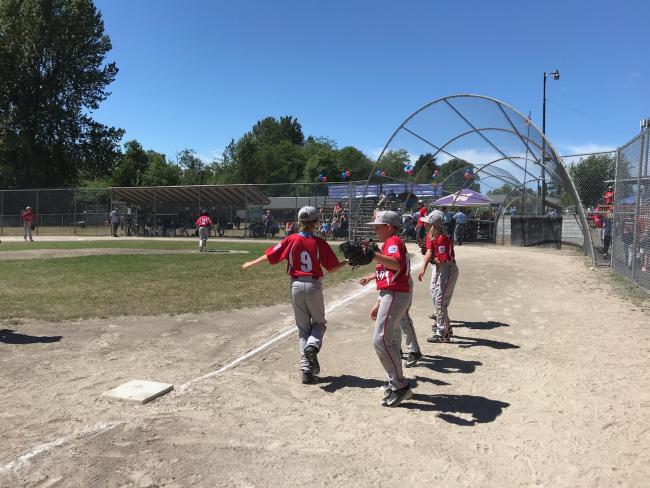 Gerardo Bolong
Mon, 07/01/2019
By Gerardo Bolong
Contributing Writer
Forceful hitting powered the Pacwest 9-11 age Little League Baseball All- Stars to a 17-5 defeat of West Seattle in a District 7 tournament win at the PacWest fields on Sat., June 29.
The first round victory catapulted the team from East Highline into a June 30 game at 3 p.m.
"I'm proud of the kids," said PW manager Todd Loiselle. "They did the hard work. We attacked the strikes. When you get strikes, you hit it hard."
Clinging to a 4-3 lead after three complete innings, the PacWest All-Stars tore apart the fabric of the game.
Evan Loiselle led off the fourth with a single. Next came consecutive walks to Landon Bennet and Dane Peterson to load the bases.
A walk forced home a run ahead of Kael Copeland's run-scoring single.
As the at bat continued, PacWest continued blasting away with base hits mixed in with occasional walks.
Adam Davis had two singles and two RBI's while Bennet knocked home two runs. Many other players contributed to the 13- run barrage. Nate Klika tripled home three runs and walked to force a run in as additional highlights.
Trailing 17-3, the West Siders scored a pair of runs in the bottom of the frame, but the 10-run mercy rule caused the early stoppage.
The West Siders took a 1-0 lead in the first inning before PW rallied.
In the top of the second inning, a wild pitch and an Evan Loiselle ground out placed Pacwest into a 2-1 lead.
An outfield error ahead of a Waylon Ryan single set up Ayla Moore for a two-run single and a 3-2 lead.
Following a run-scoring wild pitch, Josiah Barrow singled in a run for a 4-3 Pacwest All-Star lead as the lead-in to the fourth inning fireworks.