West Seattle Little League advances in tournament
West Seattle Little League advances in tournament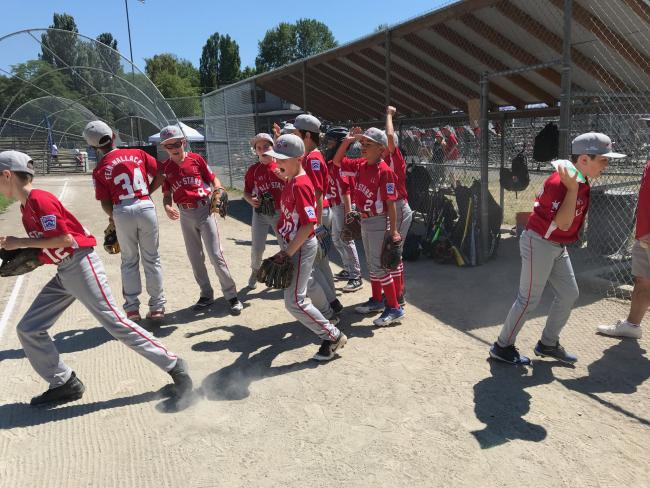 Gerardo Bolong
Mon, 07/01/2019
By Gerardo Bolong
CONTRIBUTING WRITER
In the warmth of the sunny Sunday afternoon at the Pacwest fields on June 30, the West Seattle 9-11 age division Little League Baseball All-Stars turned the heat on to win their second consecutive District 7 tournament game with a convincing 17-2 defeat of South Highline American in a game shortened to three innings due to the 15-run mercy rule.
"We hit the ball well and the pitching was strong," said West Seattle manager Matt Schlede. 
From the opening pitch, the Westsiders struck the ball solidly and stayed persistent, overall.
Max Cooper started the first inning with a flip shot hit that was misplayed in the outfield. Then, electricity struck for West Seattle. Bryce Alonzo pulled a hit deep to right field and traversed the bases with warp factor speed to easily beat the relay throw from the outfield, earning an inside the park home run. Two fielding miscues helped the Westsiders add a pair of runs to lead 4-0.
Keyed by Jalen Bith's infield single for one run and a Jackson Williams RBI, American drew close at 4-2.
At this point, WS began to assert itself powerfully. Six runs in the second inning made the score 10-2 and the assault continued in the third inning.
RBI doubles by Ryan Typpi and Lincoln Scott fueled the game-ending seven-run salvo that closed out the tournament game.
"The team hit and played good defense," observed Otis Schlede.
Pitcher Scott pitched a complete game three-hitter in the abbreviated innings match up.
Next up for West Seattle is a Tues., July 2, game against South Highline National at 6 p.m. at the Pacwest fields in SeaTac.