West Seattle comes back for crown
West Seattle comes back for crown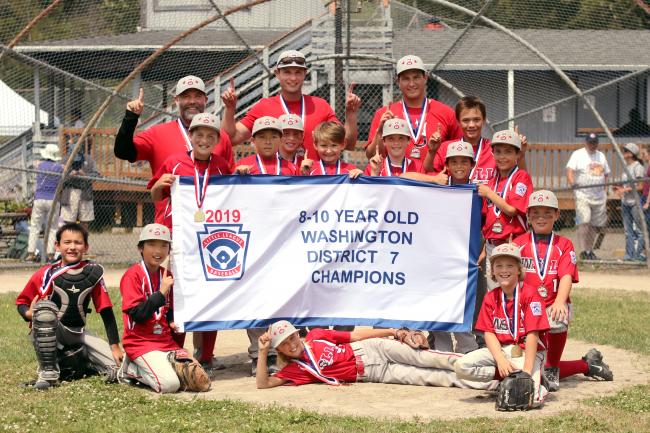 Chelle Herbruger
Fri, 07/05/2019
By Chelle Herbruger
CONTRIBUTING WRITER
West Seattle battled all the way back through the losers bracket to capture the District 7 Minor (age 8-10) Little League all-star baseball championship.
After opening the tournament with a win over South Highline National the Westsiders took a loss to PacWest to put them into a position where they had to win five games in a row without a loss to win the title.
They rebounded to knock Seattle Central and the Rainier District out of the tournament, then gained revenge on Pac-West in Wednesday's losers bracket final to earn the right to play Renton for the championship.
West Seattle needed to beat Renton twice on Thursday, and accomplished the feat including a 6-5 victory in the second game.
Now it's off to Gig Harbor for the state tournament, starting with a noon Sunday game after getting a bye past Saturday's first round.
The District 7 championship West Seattle team is managed by Mike Fahy with Chris Kraynek serving as the coach.
West Seattle players are Mateo Garcia, Samuel Kraynek, Kye Ritzman, Owen Fahy, Cole Williamson, Asher Straus, Waylon Ryan, Ayla Moore, Jaxton Daily, Andrew Nguyen, Henry Timmons, Eli Slatkin and Ben Grimes.
The Renton team that won its first three games to get to the championship was managed by Kennedy graduate Erik Hollerbach, with Tyee graduate Jordan Seiber serving as a coach along with Jay Keen.
Renton players were Maxwell Brender, Jayden Keen, Brayden Seiber, Mason Rodriguez, Colton Hollerbach, Karl Ust, Tristan Klein, Zachary Tom, Owen Canter, Sam Trotter and Robbie Malone.