Rainier District power bombs West Seattle
Rainier District power bombs West Seattle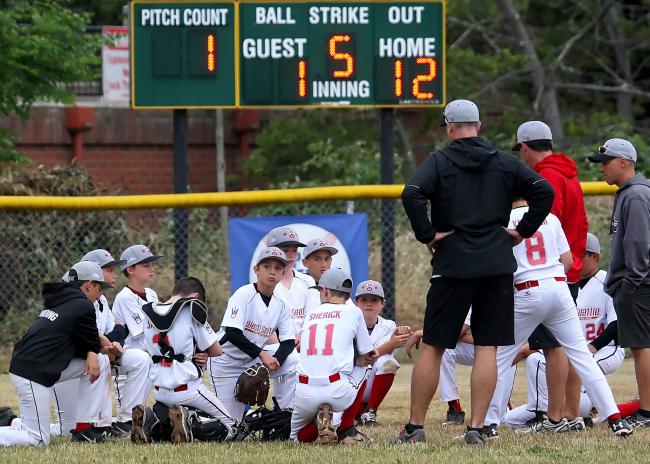 Kurt Howard
Fri, 07/12/2019
By Gerardo Bolong
CONTRIBUTING WRITER
Pitching kept hitters off balance and batters punched out key hits as the Rainier District 11-12 age Little League Baseball Majors All-Stars downed the Westsiders 12-1 in five innings at the Bar-S Playground by virtue of the 10-run mercy rule.
The Tues., July 9, District 7 tournament win qualified RD for a scheduled July 11 championship bracket game at 6 p.m.
WS (weather permitting) heads into a July 10 loser-out game.
"It was one of those games where no one was ready to play," said WS manager Otis Moore. "We're a good team, but didn't have much power tonight."
Locked in a 1-1 standoff after two and one-half innings of play, the game appeared to be headed toward a tightly fought drama.
In the bottom of the third, Rainier District began its energetic surge toward an early dismissal.
Prince Davis launched what was originally a three-run homer, but an appeal play that was completed by the WS pitcher throwing the ball to catcher for a tag of home plate.
After the catcher tagged home plate, the lead runner was ruled out for not touching home plate. 
This would be just a momentary respite for the Westsiders. The Rainier District All-Stars continued the inning by adding two additional runs for a 5-1 lead.
As the rain showers turned into steady, but light precipitation, Rainier poured down continually heavy run scoring.
Five runs on only two hits nearly ended the game in the fourth inning.
Leading 10-1 in the bottom of the fifth inning, the Rainier All-Stars opened up with a lead off walk from James Lynch. 
Davis stepped up to the plate and wasted little time in crushing his second home run, this time a walk off game winner, over the fence in left center field.
A Davis RBI single in the home half of the first inning put Rainier into a 1-0 lead.
West Seattle created early chances without obtaining maximum benefits.
Marco Woefle drew a two-out walk ahead of a Nicholas Beardemphl infield ground ball that bounced off the left side of the pitcher after contacting the pitcher's mound.
This infield single set up the second straight pinch hitter Cameron Fitterer for a walk to load the bases. A ground out ended the uprising.
In the next inning, the Westsiders scratched out a run on two hits before Rainier District took control.
Rafiq Samoun pitched the first three innings followed by two scoreless innings by Charlie Dure.
Joe Sherick led West Seattle batters with a double and single.
Following the customary post-game hand shakes, West Seattle players and coaching staff led cheers for their opponents' excellence.