Seahawks' Metcalf lends assist to Seattle school teachers
Seahawks' Metcalf lends assist to Seattle school teachers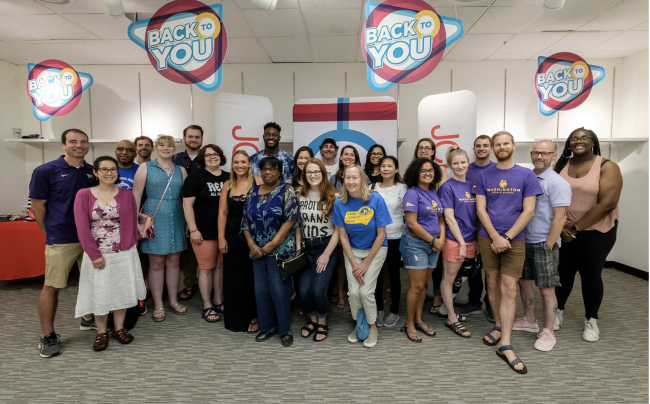 Stephen Brashear/AP Images for JC Penney
Thu, 08/15/2019
By Tim Clinton
SPORTS EDITOR
What DeKaylin Zecharius Metcalf accomplishes on the field in the National Football League is all in the future.
But the rookie wide receiver for the Seattle Seahawks who goes by the name D.K. Metcalf has already left his mark off the field, including at a Wednesday appearance in Tukwila.
Metcalf doled out $200 gift certificates to the Southcenter JC Penney store to 25 Seattle Public Schools teachers, and $1,000 to the district to help needy students obtain socks and underwear.
"It was a real surprise first of all," said teacher Shamar Botley of Denny Middle School in West Seattle. "It's cool to help kids with the most need. As a teacher it helps me, too, and my kids. So it's twofold."
"My agent hit me with the opportunity and I wanted to give back to the community, to my new home town," said Metcalf, who hails from the University of Mississippi -- Ole Miss -- for college ball.
The 21 year old Metcalf signed autographs and posed for pictures, and even helped teachers shop.
"What do you think of this style," Metcalf asked one while holding up a Seahawks shirt.
Metcalf rummaged through the Seahawks collection some more.
"They've got to get a bigger Seahawks section," he said.
Metcalf is the son of former Chicago Bears guard and Ole Miss player Terrance Metcalf, and he hopes to follow in his shoes as to making an NFL name for himself.
"It has been a great experience just being here with the team and the fans," Metcalf said when asked how he liked his experience as a Seahawk so far. "It's a great organization to be a part of."
The highly-touted 6-foot, 3-inch 227-pound receiver has even tried his hand at throwing a baseball since he came to town, tossing out the ceremonial first pitch at a Seattle Mariners game.
"It was great," said Metcalf, who fired off a strike.