Shoe repair business in Seahurst is a good fit
Shoe repair business in Seahurst is a good fit
Shoe repair business in Seahurst is a good fit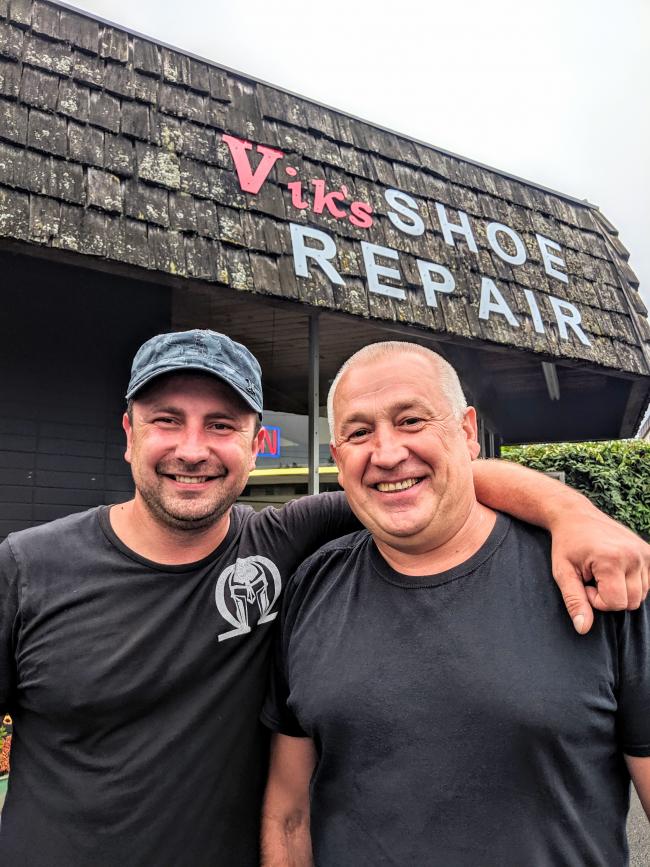 photo by Tim Robinson
Mon, 08/26/2019
by Rob Clay
What is the most significant thing about coming to the U.S. for Nick Svyryda and his dad Vik? Street lights. Yep, that and big buildings and oh...yeah,..nice roads. From the middle of Ukraine to America is a big leap. It was a leap of faith for Vik's family who shared a willingness to work hard. Vik obtained his green card, arriving in the northwest in 2002.
Repairing shoes is a skill Vik learned in Ukraine from his uncle as a young man of sixteen. Long hours with a limited resource of hand tools and one polishing machine is a craft handed down from previous generations. Vik still uses a knife he made from a 1/8 inch flat steel bar, cut to an angle and honed to a sharp edge. He wrapped the handle in a thin piece of leather to get a better grip. When you can't afford a fancy knife, you make an unfancy one. The skill is in the holder, not the knife.
Since 2002 the Svyryda family (s-veer-da) has called Auburn, Washington their home and since then they've been in the shoe repair business, first as Vik volunteered at a Bellevue repair shop before opening his own store in Southcenter, until earlier this month when they moved to Burien/Seahurst.
Tucked away in the corner of an unremarkable shopping center in Seahurst isn't the 'last' place you'd expect to find a shoe repair shop but it is there. Vik and son Nick (32) began serving customers the first week of August. Nick has been learning the trade for the last five years.
The community has come calling."Everyone is nice," Nick said. They have regular Burien customers who frequented their Southcenter store and now do not have to go far for their needs.
It is a family affair with Vik's daughter Alina initially working the front desk and handling the phone early on while mom Tatyana makes sure the men get out the door each a.m. for the 20 mile commute with lunch bags in hand. 
Running a shoe repair in Ukraine is far different than here Vik said. Lack of tools and materials means customers wait longer for the repairs to get done. Business is slower and many people do not have money to pay for the service so they go without shoes. Especially when the Ukraine was part of Russia. "A kid would go to school one day," Nick joked. " The same kid would not show up the next day so the teacher would ask why not. The kid would say the family only had one pair of shoes and it was not his day to wear them." Vik laughed too. Their easy nature and wide smiles are part of the charm of the shop.
The cubbies on the wall are filled with recent orders, a pair of platform wedges, a leather belt, buckles on a leather shoe strap and some leather sandals that needed widening. Vik or Nick can adjust the fit of a shoe to accommodate a bunion or even make a brand new shoe fit better with an overnight stretch. If it is leather they can fix it. 
Customers bring in purses, work and cowboy boots, boots with broken zippers and even leather motorcycle jackets that need patches. To add a touch of class to much of their work, they offer a shoeshine service as well.
One great thing about Burien/Seahurst for the Svyryda's shoe repair shop? It is easy to find in a small building with a big street light and a nice paved road out in front.
The shop is located at 15213  21st SW in Seahurst, just off 152nd street and next door to Bistro Baffi restaurant and Howard & Marge clothing store. Store hours are Monday through Saturday 10 a.m. to 7 p.m.