Kennedy Catholic outshines Bethel
Kennedy Catholic outshines Bethel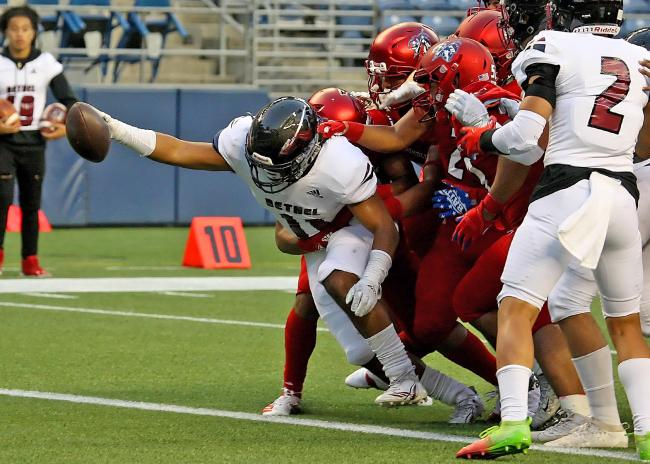 Kurt Howard photos
Sun, 09/08/2019
By Tim Clinton
SPORTS EDITOR
The Friday night lights shone brighter than normal on the Kennedy Catholic and Bethel high school football teams in their non-league season opener against each other.
That's because they were playing under the brilliant bulbs at the Seattle Seahawks' National Football League home of CenturyLink Field in a game televised nationally on ESPNU.
The Lancers of Burien outshined the Braves of Graham, 35-27.
The game was not settled until Kennedy Catholic quarterback Sam Huard knelt on the ball on a first and goal only four yards from the end zone to run out the clock.
Bethel struck for a 7-0 lead with 8:30 on the first quarter clock, but the Lancers answered right back 15 seconds later as Justin Baker returned the ensuing kickoff 90 yards for a touchdown.
Michael Snyder kicked the extra point to knot the score at 7-7.
Bethel went up, 14-7, at 8:39 in the second quarter and Kennedy Catholic responded at 6:30 to go.
The left-handed Huard, a junior who has already committed to the University of Washington, hit Reed Shumpert with a 30-yard touchdown pass.
But Snyder's kick was too low to leave the Lancers down 14-13.
Kennedy tacked on six more points with 38 seconds left before halftime as Jabez Tinae leaped up to haul in a Huard pass on the right side of the end zone.
A pass for two more points failed to leave the score at 19-14.
The Lancers made it 25-14 on the first play from scrimmage after the half.
Huard connected with Tinae on a short pass up the middle and he popped through and ran to the end zone from 85 yards out.
Another pass for two fell incomplete and
Bethel closed to within 25-20 at 2:58 to play in the third quarter.
Kennedy took a 32-20 command at 6:48 to play in the fourth quarter.
Huard passed to Shumpert on a 30-yard play and Snyder kicked the extra point.
The Braves made it a 32-27 game with 4:13 to go, but the Lancers held the ball the rest of the way and marched as close as the Bethel 4-yard line before Huard ended it with his kneel down.