Rams roar by outmatched Royals in girls soccer
Rams roar by outmatched Royals in girls soccer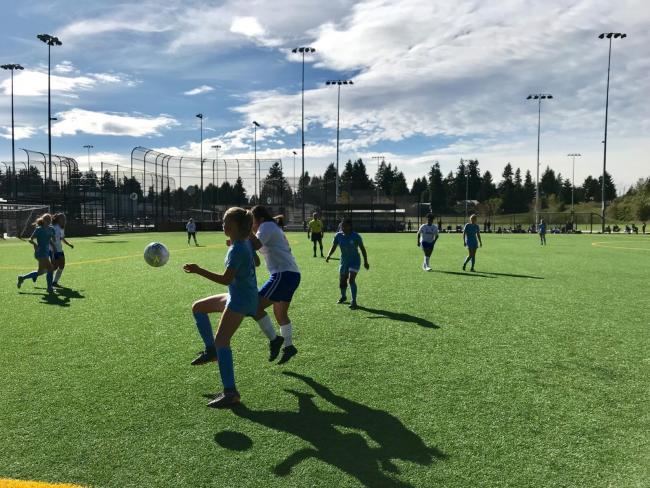 Gerardo Bolong
Fri, 09/13/2019
By Gerardo Bolong
CONTRIBUTING WRITER
Early offensive pressure and fine passing sequences led the way in a 12-0 Mt. Rainier girls soccer victory against Kent Meridian on Thurs., Sept. 12, at Valley Ridge Field #3.
The Rams opened NPSL 4A Cascade Division play in the win while remaining unbeaten in their two games played.
"We didn't adjust well at first for the wind and the heat and humidity slowed us down," said MR head coach Mike Fuchigami. "Once we adjusted, we moved the ball well and had good communication for good team play. Give Kent Meridian credit. The team kept playing hard the whole game."
Opening up with early pressure and good passing, the Rams put the Royal net under siege. Only some great stops by the KM keeper held Mt. Rainier off the scoring parade, but the near relentless attacks finally withered away the Kent Meridian defense.
Creating scoring chances on fine passing combinations, the Rams scored within the first three minutes of play when co-captain Taylor Nelson scored the first of a flock of goals.
Moments later, she scored again off a pass from Sophia Sullivan.
Forward Karli Yoshida-Williams joined the scoring quickly with an angled goal and Mt. Rainier just kept rolling against a hard fighting, but outgunned KM squad.
Nelson notched her hat trick goal off a rebound to be shortly followed by another Yoshida-Williams scoring shot as the Rams dribbled and ran to their heart's content.
By halftime, MR led 8-0 with Nelson eventually earning her fourth and fifth goals.
Yoshida-Williams claimed her hat trick, as well, in the first half.
Reserves played the entire second half, as they worked on passing skills and continuity. Kayla Salisbury added two second half goals before sophomore Peyton Gendreau zipped home a scoring kick.
Sierra Newman scored to close out the scoring.
At goalkeeper, senior Hannah Ziegler claimed the shutout.
"This is a good team and we connect well," said Yoshida-Williams. "We play well together and we'll have a lot of fun."
Nelson also felt good about the situation.
"This is a strong team," she said. "We expect to battle and fight and hopefully get wins."