Lightning, Warriors zap Evergreen
Lightning, Warriors zap Evergreen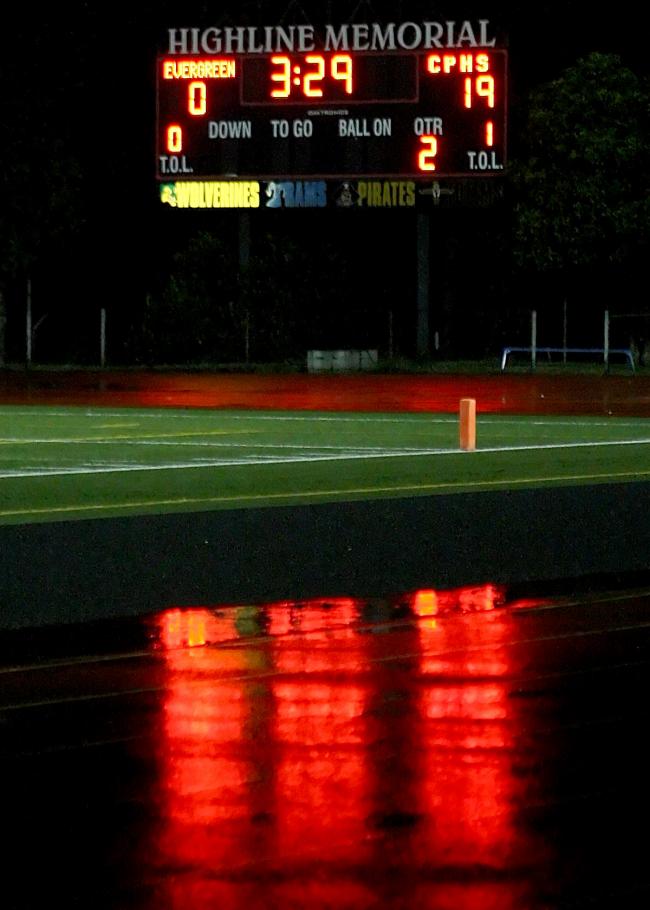 Kurt Howard
Sun, 09/15/2019
By Chuck Mingori
CONTRIBUTING WRITER
With lightning strikes brewing, game officials stopped Thursday night football action between Evergreen and Clover Park.
The visiting Clover Park team had just taken a 19-0 lead on a seven-yard corner route with 2:39 left in the opening half. Unknowingly, that score would  later become a final as the teams were unable to resume play in time following a weather delay. The coaching staffs from each side along with game officials decided to make the score final rather than reschedule or try to resume play.
There proved to be no stopping Clover Park, despite strong defensive efforts by the host Wolverines.  An impressive aerial assault combined with a powerful run game churned out big chunks of yardage that were difficult to overcome.                                                                    
Evergreen's big green defense stood tall to stymie the Warriors at the 10-yard line and keep a 12-0 deficit from growing.                                                                                                                    
Clover Park already had scored twice, once on a swing pass from Daniel Salano to Thomas Alston, who ran 68 yards for the score, and again on Salanoa's 40-yard strike to Armadeyus Mailoto.                                                                                                                                                Evergreen gained good field position when Isaiah Richards recovered an onside kick attempt by Clover Park. A short punt and a 35-yard kickoff return by Keano San also set up good field position.   Each time, Evergreen was turned away. One such time came when running back Vincent Githinji  was stopped on fourth and one at the Clover Park 40 with 48 seconds left in the opening quarter.                                                                                                                                    Although the Wolverines were giving a big advantage in size, it did not prevent the Wolverines from making big stops. One such play came on a hard-nosed tackle by Theron Wanner against a much bigger player in Clover Park quarterback Salnoa (6-1, 210). Stellar defensive play also came from the likes of Githinji from his safety position and Todd My at linebacker.
Githinji led the charge on the ground for Evergreen with his hard running. Rico Jerez-Sosa showed some speed with his run of 14 yards for a first down on a reverse. And a punt from Githinji that rolled dead at the Clover Park 14 after travelling 56 yards.                                            
But Clover Park then put together an opening drive that led to a score.                                            
Week three will find Evergreen at home next Friday night as the Wolverines will play Renton in a league opener. Kick off is set for 7 p.m.