Falcons rise above Bulldogs
Falcons rise above Bulldogs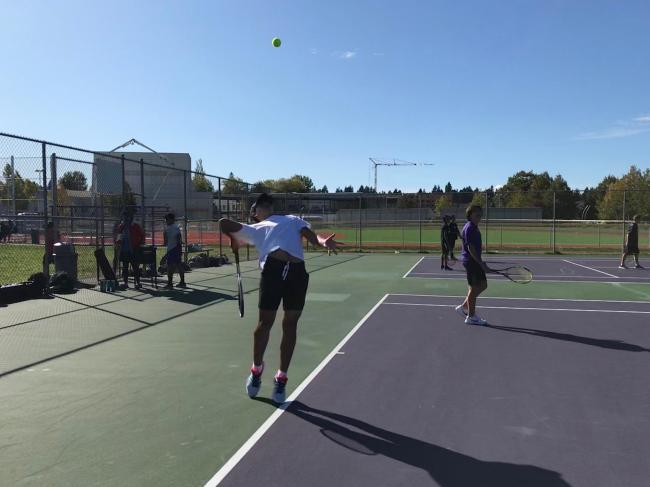 Gerardo Bolong
Wed, 10/02/2019
By Gerardo Bolong
CONTRIBUTING WRITER
Unforced mistakes tilted the court in favor of visiting Henry Foss High School (Tacoma) in a 4-1 SPSL 2A boys tennis win at Foster on Tues., Oct. 1.
With a default in No. 3 doubles, the home Bulldogs squared the proceedings in less than 30 minutes when last season's fourth-place state singles placer Abe Rios overwhelmed the Falcons' Steven Tran in two sets of No. 1 singles without losing a point.
In his junior year a stronger Rios looks to move up at state as he has lost only four points in an unbeaten skein so far this season.
"I tried to use weights, but they hurt my wrists, so I did calisthenics and bar work and strengthened my body parts,' the junior Foster athlete said. "I'm working on my serve and volleying."
HFHS grabbed the lead in matches for good as its No. 2 doubles squad of Daniel Ivanovic and Mike Leutele overcame Jordan Nguyen and Larry Tran, 6-4, 6-1. The Falcon tandem used the Australian "I" formation effectively in the second set.
John Diamond earned No. 2 singles with a 6-0, 3-6, 6-0, defeat of an up and down Sahar Buttar to seal the deal for HFHS.
The No. 1 Foster double team of Sr. Abedale Buenavista and Joey "Gogo" Gonzalez held a 5-0 lead in the first set before being plagued by self inflicted mistakes. The Foss team of  Aldo Meneses-Campus and Eduardo  Alegre Jr. rolled for nine consecutive points on the way to a 7-5, 6-3 victory.
This season's Foster squad returns four players total with young, inexperienced players still trying to earn eligibility.
"We have one senior (Buenavista),' said Bulldog head coach Soap Ngeth. "We have been averaging two defaults per match because players are not yet eligible to play due to not enough practices. We have lots of inexperienced players this season. Rios is working on being a more consistent server and volleyer in transition. He can win, even when he is not at his best. Besides his forehand and defense off the forehand, he has a mental advantage."
Foster now stands at 1-5 league and overall while Foss improved to 2-4 and 2-4, respectively.
Next up for the Bulldogs is a 3:45 p.m. rescheduled home match against Sammamish on Wed., Oct. 2. Foss travels to Lindbergh on the same day.