Lancers shred Titans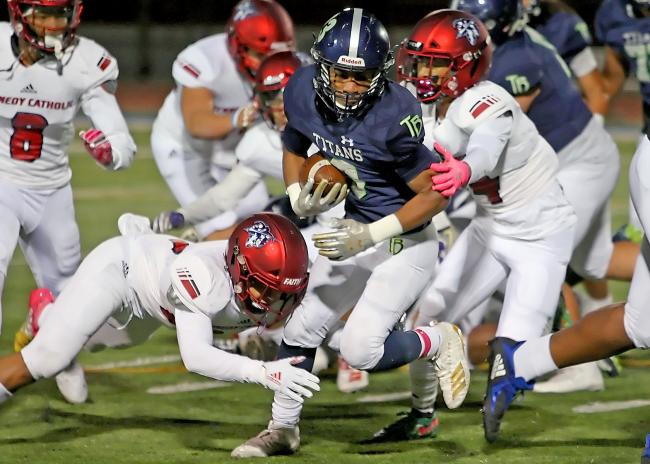 Kurt Howard photos
Sun, 10/13/2019
By Gerardo Bolong
CONTRIBUTING WRITER
FEDERAL WAY - High octane offense and devastating defense stood tall together for Kennedy Catholic in a 49-6 slicing up of a good Todd Beamer team in Thurs., Oct. 10, NPSL 4A football on Thurs., Oct. 10.
Kennedy continued its nearly unstoppable offensive attacks, but this season the defense is greatly improved.
The Lancers came within less than two minutes of their third shutout this season.
Andrew Haver cleared the right side for 52 yards to the Lancer three yard line for Beamer.
Kennedy's bevy of substitute defenders held for two downs, but Xavier Watson broke through for the Titan touchdown in the 80-yard drive with 1:51 left in the fourth quarter.
The Lancers (3-0 Mountain Division) blocked the extra point to accentuate the defensive dominance.
Instead of wild shootouts, such as last season's 49-45 win in the last 27 seconds against Beamer, the defense has given the MaxPreps state rated No. 5 Lancers (6-0) a legitimate resume for a state championship contender.
"Our defense is the story," KC head coach Sheldon Cross said. "It's the most improved defense in the state of Washington in my opinion...These kids were hungry to prove something this year, and they're doing it week in and week out. The defensive line, the linebackers. The entire defense has improved.'
The Titans were able to move the ball on the ground behind the offensive line led by Denny Tuimalu for 300 yards of offense, solely on the ground, but KC dropped runners in the backfield 15 times out of 53 plays.
Kennedy Catholic created a pair of turnover on downs and recovered two fumbles while defensive back Davis Dengah intercepted a fluttering duck pass on a fake field goal attempt and returned it 81 yards for a touchdown that helped make a 28-0 score late in the third quarter.
Despite this, Lancer defensive player Sav'ell Smalls looked for improvement.
"We've just got to get back to the drawing board and get better," said Smalls.
Offensively, Kennedy Catholic remained potent in its up tempo aggression.
After the Lancers forced the Titans into a three and out on the first offensive possession of the game, Kennedy Catholic began to roll behind its nearly impenetrable offensive pass blocking and heralded quarterback Sam Huard.
Keyed by a 44-yard screen pass from junior Huard to wide receiver Jabez Tinae, KC methodically matriculated the ball 74 yards in nine plays as Huard, who was flushed out of the pocket, found Reed Shumpert for a three-yard touchdown pass midway through the first quarter.
The touchdowns just kept coming for Kennedy Catholic en route to a 21-point second quarter and 21-point second half.
For the game, Huard completed 27-of-38 passes for 323 yards and five touchdowns. His final 15-yard strike to Junior Alexander early in the fourth quarter brought his career total to 103 touchdown passes to reach 11th on the all-time list.
The first touchdown pass of the game to Shumpert was his 100th.
Tinae led Lancer receivers with five caught passes for 136 yards.
The left-handed Huard completed two three-yard touchdown passes to Shumpert plus a 12-yarder. Alexander had 75-yards on six catches and a 15-yard score as Justin Baker had a 1-yard receiving touchdown.
"We don't know what defense we're going to face each game," said Huard. "Whatever the coverage is, we'll adjust as we see it. I feel like this was our most complete game and best of the year. We put on a great show and everyone just played great."
When he found out about his benchmark achievement in passing, he gave full credit to his linemen.
"That's awesome," he said. "That's a great achievement. It's all credit to coach Cross, my receivers, my O-line. You just get them the ball, and they do the work."
Coach Cross lauds the work ethic of Huard.
"He really commanded it tonight," coach Cross said. "He was really dialed in. I felt like he took the game plan to another level tonight and just looked sharp...There's a reason he's the best in the country, and we're lucky to have him. The bar just keeps getting raised and he's willing to work for higher levels."
Former Skyline quarterback Jake Heaps looms ahead in 10th place all-time touchdown passes at 114 from 2007-2009.
Leading rusher Zaire Lozolo was slightly injured in the second quarter, but Leland Ward took over to rush six times for 88 yards and a 1-yard touchdown plus two catches for 32 yards.
The Titans (2-4) were led by Xavier Watson's 159 yards on 25 tries. Quarterback Brycen Dilworth was a threat for 65 yards on 19 carries.