West Seattle girls working toward title
West Seattle girls working toward title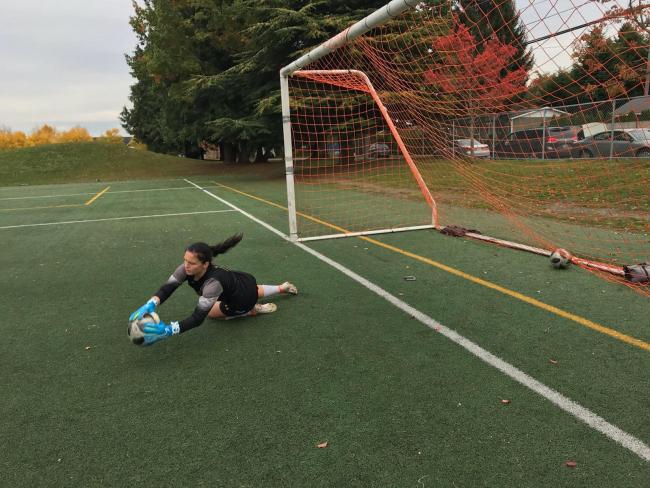 Gerardo Bolong
Wed, 10/16/2019
By Gerardo Bolong
CONTRIBUTING WRITER
Rain held off to keep the soccer fields at Walt Hundley Park dry on Tues., Oct. 15.
Unfortunately, the visiting Rainier Beach girls soccer team was unable to field enough players to play a 3A Metro League match against West Seattle.
As a result, the teams played a modified time exhibition match to work on basic skills, such as cross passing. The home Wildcats, in particular, used players in different positions while also trying to stay sharp for future matches in quest of a Metro League championship.
West Seattle (6-0-1 Sound and 7-3-2 overall) plays matches at Nathan Hale (Oct. 17), at Sehome nonleague Oct. 19), a big game at Ballard who is 6-0 Metro Sound and 7-1 overall (Oct. 22) before hosting Chief Sealth (Oct. 24)
With a large group of returners from last season's state team, the Wildcats will need an extra push to win the Sound title.
"The girls have put in a lot pf effort," said first-year head coach Andres Lara Rodriguez. "They're respectful towards their rivals even when the opponent is not as skilled. We're trying to go for a Metro League championship. We really need to beat Ballard. Possession of the ball is the key of our team. There are skilled players who can make accurate passes. That's our brand."
One of the holdovers from last season is senior Juliet Anawalt.
"Keeping our energy high is our goal,' she said. "We need to maintain a high level and make the most of our opportunities. We are good with our communications and passing. Everyone's talking."
Another retunrner is senior Lilli Bedell.
"Strengths are keeping possession and scoring goals," she observed. "Attacking from the flanks is strong, but we're also good from set plays."
Senior goalkeeper Lexi Foster puts a cap on the situation.
"We have done well and we all work together," she concluded. "The team passes well."