Riders gallop over wildcats
Riders gallop over wildcats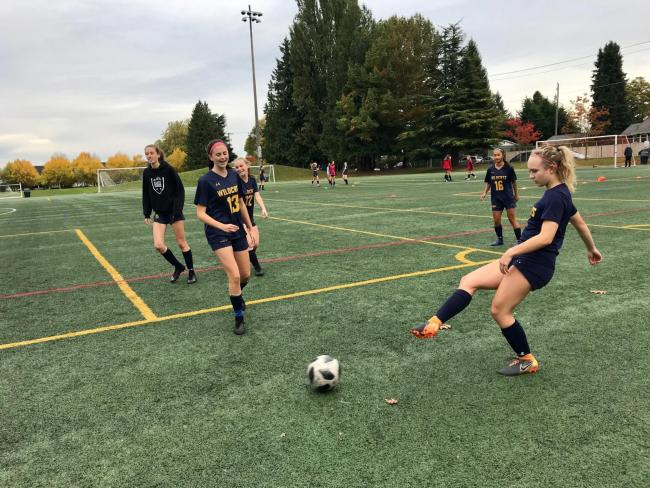 Fri, 11/08/2019
By Gerardo Bolong
CONTRIBUTING WRITER
High energy led to continual first half scoring opportunities for Roosevelt in a dominating five to nil Metro 3A girls soccer playoff game at the Southwest Athletic Complex On Tues.,Nov. 5.
Roosevelt (12-2-3) secured the third seed into the state tournament first round.
West Seattle (10-3-2) faced off against Holy Names Academy on Thurs., Nov. 7, in a 5 p.m. match up at SWAC for the fourth and final state seed and lost 1-0.
"We played cold the first half," said Wildcat head coach Andres Lara Rodriguez after Tuesday's loss. "They won every 50-50 ball. They played with more energy tonight and fought for every ball. We were waiting for the ball to come to us."
Throughout the regular season Roosevelt did well to set up attacks, but sometimes had problems finishing.
On this cold night, the Roughriders brought the heat and were able to  close out their strikes.
Due in large part to the recent return from injury of Sally Menti, Roosevelt swarmed the somewhat passive Wildcats with continual threats that kept WS busy defending for most of the first half.
In the seventh minute of play, Menti scored for a 1-0 lead.
Roosevelt kept controlling the ball and scored again on a Menti goal three minutes later.
Twenty two minutes of elapsed time in the first half showed when midfielder Kate Grey funneled up the middle to notch a goal for a 3-0  lead.
The Roughriders kept pushing up, resulting in a hat trick goal for Menti in the 25th minute.
Unable to sustain offensive pushes, West Seattle faced a 4-0 deficit at the half.
West Seattle made some adjustments for the second half to become more aggressive.
In the 47th minute, the Wildcats quickly put two consecutive shots on goal.
Finally, WS was putting pressure on the goal.
Another good shot was posted in the 49th minute plus a strong shot in the 55th minute.
Suddenly, it was the Roughriders who scored in minute 59.
The 63rd minute featured a long West Seattle shot that bounced off the crossbar.
The Wildcats fired a shot to the right side of the goal in the 76th minute that was deflected on a diving save by Roosevelt keeper Kendall McDonnell to preserve the 5-0 win.