Execution mistakes oust Mt. Rainier
Execution mistakes oust Mt. Rainier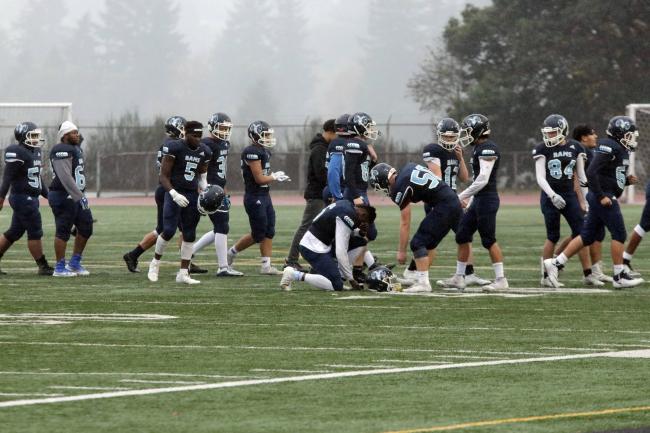 Chelle
Mon, 11/11/2019
By Gerardo Bolong
CONTRIBUTING WRITER
Reigning state champion and Southwest Washington No. 5 Union of Vancouver took advantage of early turnovers that set the tone in a 42-6 domination of NPSL Olympic champion Mt. Rainier in a Sat., Nov 9 state 4A first round 4A state football game.
"The early turnovers put us in a hole," said Ram head coach Tremain Mack. "We gave them opportunities and they took advantage of them. We had opportunities and didn't take advantage of them. It was a bad day to have our worst game. We've responded to adversity well. It just didn't happen in this game. The players will take the lessons and apply them to life for positives."
The Rams fell behind quickly after Isaiah Jones took an interception back 45 yards to give Union a first down at the MR a nine-yard line.
Two plays later, quarterback Alex Gehenna kept the ball for a four-yard touchdown as the Titans led 7-0 with 9:08 left in the quarter.
On the Mount Rainer ensuing possession, a 13-yard interception return gave Greater St. Helens League Union another short field at the Ram 18.
Another Jones sweep made it first and goal at the three, but a series of penalties eventually forced Marques Cantu into a 10-yard touchdown run.
For the duration of the game, the home team Rams struggled to play up to their normal high levels of play.
After taking over on downs at the Ram 32 at the beginning of the second quarter, the Titans took six plays to score on a crossing pattern end zone catch from 18 yards out.
Jeremiah Johnson put MR back into the discussion when he cut left, shook off a tackle as part of an 88-yard sideline touchdown run with 9:08 before halftime.
The extra point was blocked, making the score 21-6.
Ricky Bell's interception at the Union 45 yard line gave Mt. Rainier hope only to have the Ram drive drive end on downs at the Union 17.
With a 21-6 deficit to open the second half, MR gave up three consecutive runs of 26 yards or more.
Vinh Luong completed the drive on a 19-yard run.
The pattern of poor execution by the Rams continued.
Union scored fourth quarter touchdowns on a catch by Jake Bowen and a run by Cantu to make the final score 42-6.
Gehrman finished 21 of 33 for 246 yards.
Bowen earned six catches for 101 yards and a defensive interception.