Healthcare, social services and companionship benefit seniors at growing Providence ElderPlace
Healthcare, social services and companionship benefit seniors at growing Providence ElderPlace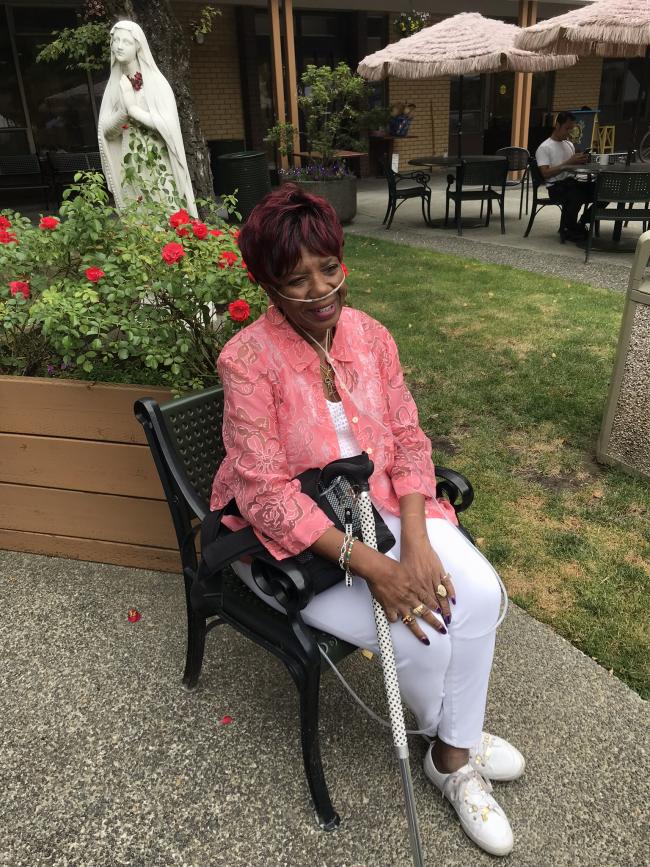 Cynthia Flash
Fri, 11/15/2019
By Cynthia Flash
This summer, 10 seniors with multiple medical conditions went sailing as a therapeutic intervention aimed at helping address their mental health and wellness. The seniors, who are enrolled at Providence ElderPlace in West Seattle, joined Sail Sand Point's sailing adventures as part of a test to see if being outside and on the water helped.
Even though the official results aren't in yet, Susan Disman, recreation therapist at Providence ElderPlace, said she has already seen benefits - including an example of one woman who simply did not think she could get on a boat - until she did! 
This is just one of the cutting edge programs that seniors receive from Providence ElderPlace, a quickly growing system of care for medically complex seniors ages 55+ who otherwise would qualify to be in a skilled nursing facility. The goal at Providence ElderPlace is to keep participants as active and healthy in their communities as long as possible by providing a wide range of health and social services. 
Providence ElderPlace is part of the national Program of All-inclusive Care for the Elderly (PACE). It now has four centers in King County – including the one in West Seattle, which is housed at Providence Mount St. Vincent at 4831 35th Ave. SW., and is open to anyone in the community who qualifies. Providence ElderPlace West Seattle opened in 2010 and has since grown to serve 148 participants.
Throughout King County Providence ElderPlace now serves more than 850 participants and forecasts a 20 percent growth rate by the end of the year – a testament to the need for this type of service in the community. It will open its fifth and sixth centers in Kent and Spokane early next year.
A team of professionals serves Providence ElderPlace clients with wrap-around healthcare and social services provided by doctors, personal care assistants, social workers, physical and occupational therapists, and other health care professionals. Team members work to keep participants safe and stable in the community, avoiding or minimizing stays in hospitals and skilled nursing facilities. 
One Providence ElderPlace participant who has completely embraced and benefitted from the program is Flora Kennedy, a Burien resident who joined in October 2018 – a time when she recalls being "bored and lifeless," lacking any desire to get dressed in the morning or to leave her home.
This was quite unlike Kennedy, who started the Tiny Tots Development Center in Seattle's Rainier Valley in the 1960s. She used to have the interest and stamina to chase around energetic preschoolers. But several back and knee surgeries sidelined her. Her depression left her afraid to go outside – relegated to a life of loneliness and solitude. 
"I was counting my days down," said Kennedy. 
Fast forward a year and Kennedy is a changed person. "I have seen a lot of positive changes and so has my family," said Kennedy, who enjoys socializing and going to church. "I feel acceptance of me at my age. I feel like I am a person because of this program. My quality of life was very low. Then I started coming here and I'm happy. I started putting makeup on. It gave me a sense of warmness. I met great people. It gave me a reason to live."
"The staff is overly warm," Kennedy said. "The activities were rewarding. If you have a problem with being depressed and homebound, this is the place. To have medical attention, this is the place. If you just need some loving on, this is the place. They make sure you're well taken care of."
Providence ElderPlace accepts Medicaid/Medicare or private fees and individuals need to meet functional criteria as defined by the state of Washington.
Anyone who is interested in finding out if they qualify to be enrolled in Providence ElderPlace should contact Jenny Kentta at 206-320-5325 or jenny.kentta@providence.org.