Kennedy Catholic rallies against Wenatchee
Kennedy Catholic rallies against Wenatchee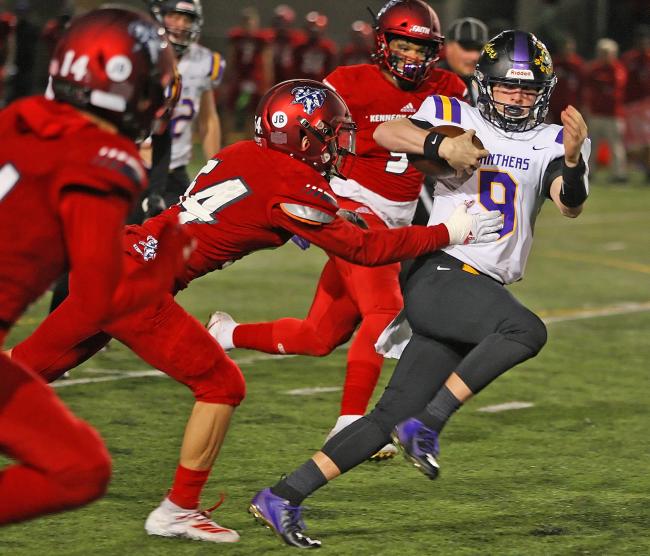 Kurt Howard photos
Sun, 11/17/2019
By Chuck Mingori
CONTRIBUTING WRITER
The top-seeded Kennedy Catholic Lancers started slow before rallying in the second half to take down the Wenatchee Panthers 49-20 in state 4A high school football action Friday night in Renton.  This opening round of 16-team playoff win advances Kennedy (11-0) into the state quarterfinals where they will take on the winner of the Woodinville – Skyview game this week at Renton.
"We just started to be ourselves in the second half," said Kennedy head coach Sheldon Cross, whose team only led 14-6 at intermission but rebounded to score 28 points in the third quarter and put the game away.  "We started to play football.  They (Wenatchee) did a very good job of playing hard.  They are a very good football team.  It's the playoffs.  It's the final 16.  It's the best 16 teams in the state and they came out with a good game plan…We hung tough. We made plays when we needed to. We're resilient. We're a gritty football team." 
Wenatchee (7-4) surprised Kennedy with a reverse on the opening kickoff and returned the ball to the Lancers' 46-yard line, but were eventually stopped on 4 and 2 at the 22 on a quarterback sneak by Wenatchee's Camden Sirmon.  A three and out by Kennedy turned the ball back over to Wenatchee, which threatened early again despite a sack by Kennedy's Sav'ell Smalls and a roughing the kicker call,  before defensive back Zane Thornton intercepted a pass in the end zone. 
"Our defense played lights out.  That's a very good quarterback over there.  We did a very good job of keeping him in the pocket.  That was one of our game plans," added Cross.  
After an exchange of punts, the Lancers were driving but lost the ball on a deflection out of the receiver's hands for an interception and return by the Panthers to the Kennedy 22.  Two plays later quarterback Sirmon found  big tight end Riley Kunz open for a 12-yard score. The PAT was blocked.
The Lancers came right back to take a 7-6 lead on a 9-yard touchdown pass from Huard to Reed Schumpert with 7:17 to play in the first half.  Snyder kicked his first of seven PAT's. Huard threw for four touchdowns in the game with three scoring tosses going to Junior Alexander.  The second Lancer score came at the 4:47 mark of the second quarter on a 9-yard pass from Huard to Alexander, who made a leaping catch in the left corner of the end zone, bringing the score to 14-6. Runs of 10 and 14 yards by running back Zaire Lozolo sandwiched around a 12-yard carry by Smalls, set up the score.
A hard hit by  linebacker Shane Aleago on a screen pass to Kunz ended the next Wenatchee drive. But an apparent 48-yard touchdown pass from Huard to Alexander was nullified for holding.
The Lancers regrouped and then went to work on the opening drive of the second half, quickly moving the ball through the air on a 13-yard pass to Justin Baker, an 14-yard sideline catch by Thornton and a leaping, 23-yard catch by Baker. Smalls carried the ball in from three yards out for a 21-6 Kennedy lead.
A defensive stop returned the ball to Kennedy and the Lancers were on the scoreboard again with 6:40 left in the third quarter on a diving, 33-yard catch for a touchdown by Alexander on a perfect pass from Huard.
 A punt return by Thornton gave Kennedy excellent field position at the Panthers' 35-yard line to set up the next Kennedy score.
Alexander's third touchdown catch came with 3:25 left in the third quarter, this time on a 19-yard slant pass over the middle from Huard, to increase the lead to 35-6. Wenatchee's Jax Turner surprised Kennedy again when he picked up a loose ball on a backward Kennedy pass that fell to the turf for a fumble and ran it back for a Panther score to cut the Lancers' lead to 35-13.
An onside kick by Wenatchee did not work when Alexander made the recovery at the visitor's 41. Lozolo then broke loose on a 38-yard run before Huard's keeper around the right end pushed the lead back to 42-13. Noah Rushing nearly had a pick-six next for the Lancers, but Kennedy did get the ball back when Thornton ripped the ball out of the hands of Nathan Blauman following a good gain.
"I saw that he was already wrapped up," explained Thornton. "I saw the ball and just took it."
That strip and runback to the Wenatchee 25 put the Lancers in prime position for their last score, with this one coming on Small's run from eight yards out.
Wenatchee added its final touchdown with 52.5 seconds on the scoreboard clock on an 8-yard run by Blauman.
The Lancers were led in passing by Huard, who threw for 248 yards on 15 of 35 attempts and four touchdowns. He also added a touchdown run.  Alexander hauled in five catches for 87 yards and three scores, while Baker caught five passes for 98 yards.  Thornton came through with three grabs for 37 yards.
Lozolo led the Lancers' rushing attack with 13 carries for 103 yards. Smalls gained 34 yards on just five carries for two touchdowns.