Ballard nets win over Evergreen.
Ballard nets win over Evergreen.
Ballard (54) at Evergreen (41)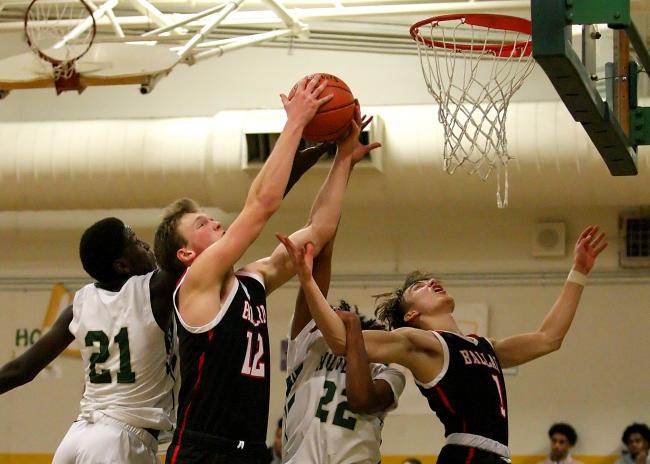 Kurt Howard photos
Thu, 12/05/2019
By Chuck Mingori
CONTRIBUTING WRITER
The Evergreen boys'  basketball team hosted the Ballard Beavers Tuesday night in the season opener with the visiting squad grinding out a 54-41 non-conference victory in front of a supportive crowd of hoop fans.
The Ballard Beavers bombed in eight 3- pointers spread among five players while the Wolverines converted just one from beyond the arc to make the difference in a hard- fought contest.  At one time, the Wolverines were down by 18 points  before rallying to cut the lead to nine points and to make matters interesting in the second half.  
Evergreen coach Matt Erickson said, "I was proud of the guys, they played really hard.  They stuck together and battled through adversity. We have plenty of things to work on moving forward.  I thought we missed some opportunities, but it is part of practicing early in the season.  We have to work to get better."
The coach added that his squad needed to improve its "offensive efficiency", "we missed some shots that we should make."   
Ballard jumped out to a 6-1 lead on a 3- pointer from Justin Burceaq and another from Tycho Striegal before Evergreen fought back to take the lead at 7-6 on a steal and basket by Marcus Tupua.  Another bucket by Striegal put Ballard back on top.  Evergreen's Vincent Githinji then buried a hook shot to cut the lead to 10-9 before Ballard's Ian Macpherson banked in a 3 -pointer as the Beavers' lead stood at 13-9 after one fast- paced quarter.  
However, a traditional 3- point play made by Burceaq after a basket and foul shot gave Ballard a 25-12 advantage with 3:08 left to play in the first half.   Macpherson's left -handed layin at the buzzer sent the Beavers into the locker room leading 31-18 at intermission.
Another Ballard 3 -point shot, this one by Ty Hermann, and two baskets from Ballard's Roan Gerrald increased Ballard's lead to 38-20. But Evergreen began to chip at the lead.  A drive to the basket by Evergreen's Kenneth Lee and another hook shot by Githinji temporarily closed the gap before a banked 3 -point shot from Brandon Cooper of Ballard kept the Wolverines at a distance.
Evergreen's one trey came from Tupua to shave the lead to 43-32 going into the final quarter.  A jumper by Githinji to open the scoring in the final period brought the Wolverines within nine points.  Evergreen was still only down by nine points after a putback basket by 6-foot, 5-inch Samatar Hashi.  But once again another 3 point basket, this time by Macpherson, shoved the lead back up into double digits.  
A pair of free throws by Lee of Evergreen had the Wolverine's trailing by 50-41.  An acrobatic shot by Burceaq and a jumper from Cooper sealed the deal for Ballard.
Evergreen was led in scoring by Githinji with 13 followed by 12 from Lee and 10 from Tupua.  Hashi chipped in with 6 points.
Ballard's top scorer was Striegal, who tallied all of his 13 point in the first half, followed by Macpherson with 10.  Cooper and Burceaq had nine apiece.  Hermann finished with five points and Tim Gaston had two points to round out the scoring.
Ballard's 5-foot 10-inch senior guard Ty Hermann explained that his team worked hard together in the off season and the results paid off with their season opening win.  He said,  "I think it really came together today.  We definitely still have things we need to work on as a team,  but I think we really played really well as a unit."  
Tim Gaston, a 6-5 junior forward for Ballard, pointed out some of the areas where the Beavers hope to improve.  He said, "Like stopping dribble drives.  We let them get to the hoop a lot.  We did a good job stopping them shooting.  But they were getting offensive rebounds.  We need to box out."  Offensively, he said, "We need to run our plays better.  We need to know what we are doing on offense."
Evergreen coach Matt Erickson said he thought that Ballard "played a really sound game.  We are just not quite there, but I think we are going to get there."  
Evergreen has another non-conference game scheduled for Wednesday, Dec. 11,  at 7pm at Liberty.  Ballard's next scheduled game is  at Garfield on Tuesday, Dec. 10, starting  at 7:30 pm.