2019 going out on a windy note; National Weather Service issues a Wind Advisory
2019 going out on a windy note; National Weather Service issues a Wind Advisory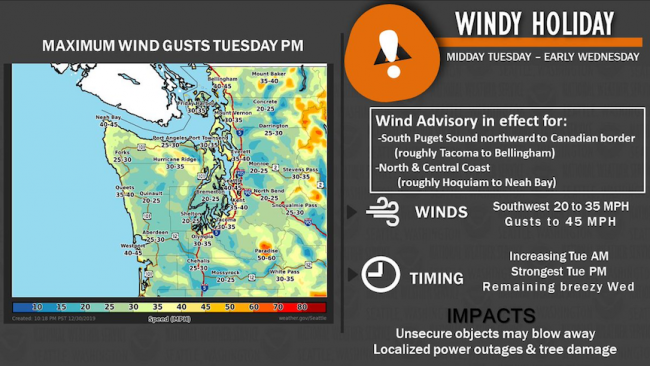 Tue, 12/31/2019
It looks as if 2019 is going to end on a windy note. If you plan on being outside for the midnight celebrations be prepared for both rain and very windy conditions with gusts up to 45mph predicted. The National Weather Service has issued a Wind Advisory:
WIND ADVISORY IN EFFECT FROM 10 AM TUESDAY TO 4 AM PST WEDNESDAY...
* WHAT...Southwest winds 20 to 35 mph with gusts up to 45 mph expected.
* WHERE...Everett and Vicinity, Tacoma Area, North Coast, Central Coast, Bellevue and Vicinity and Seattle and Vicinity. * WHEN...From 10 AM Tuesday to 4 AM PST Wednesday.
* IMPACTS...Gusty winds could blow around unsecured objects. Tree limbs could be blown down and a few power outages may result.
PRECAUTIONARY/PREPAREDNESS ACTIONS... Use extra caution when driving, especially if operating a high profile vehicle. Secure outdoor objects.