Mt. Rainier scores win over Lancers
Mt. Rainier scores win over Lancers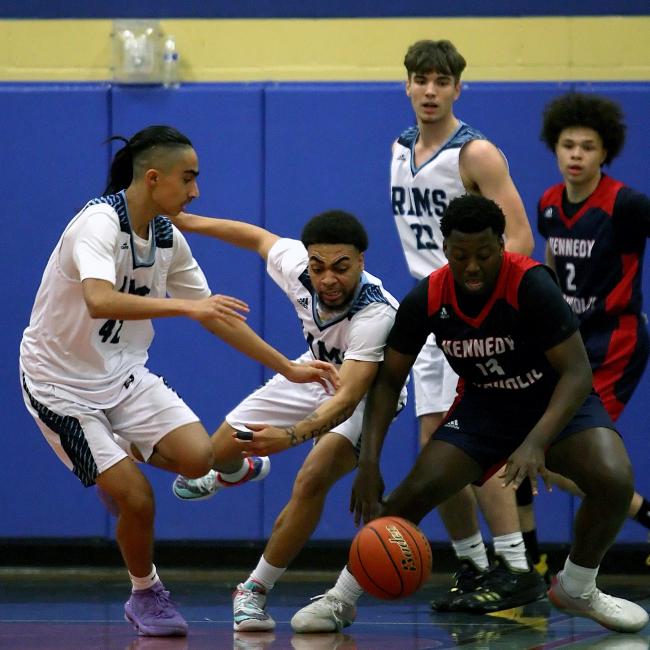 Kurt Howard photos
Mon, 01/13/2020
By Chuck Mingori
CONTRIBUTING WRITER
In a game where the lead changed hands numerous times and was tied on eight separate occasions, the Mount Rainier boys basketball team posted a thrilling 58-51 victory over the Kennedy Catholic Lancers in NPSL 4A Cascade division play Friday night.
Mount Rainier trailed by six points before going on a 13-0 run as the Rams stepped up their offense and came up big defensively in a game highlighted by tremendous plays.
 "It was two teams that battled really hard. Both teams executed well," said winning coach Brandon Horstman. "We figured out that if we run things offensively, we're a much better team than if we go on our own page."
Kennedy coach Don Hoffman noted that Mount Rainier, "just killed us on the boards the last three minutes of the game. That's where the difference in the game was…it was pretty disappointing that we didn't hang on to it."
Ram guard Ricky Bell III scored 11 of his game-high 17 points in the fourth quarter as he brought the crowd to its feet with his electric performance. So did his teammates, such as Isaiah Fulmore, who helped control the glass and played a huge role late when he swatted away potential Kennedy scoring opportunities in the closing moments.
It was an all-around team effort that allowed the Rams to climb the mountain and improve to 6-1 in division play and 8-5 overall. Kennedy slipped to 2-5 in NPSL Cascade competition and 7-6 on the season while suffering the disappointing loss. 
The Lancers were led in scoring by sophomore Jamare' Childs, who was impressive as he cashed in on 14 points. Leland Ward and Reece McAllister also reached double figures in scoring for the Lancers with 10 apiece. Chancellor Hilliard followed with eight points and A.J. Keys added seven while Samuel Strauss finished with a deuce.
For the Rams, Robert Wright was sensational while finishing with 13 points.  Teammates Kolten Lerwick and Fulmore pumped in eight points. They were followed in scoring by Navi Singh with seven, Trenton Brown four and Julian Rahn one.
Mount Rainier took a 5-0 lead on a steal and breakaway lay in by Lerwick and a three-pointer by Bell. Kennedy answered quickly, however, on a basket by Childs and a three-point shot from Hilliard. The Lancers were dialed in early from long range with triple also coming from McAlister and Childs. 
At the other end, Mount Rainier's marksmen were on target as well. Wright's shot from long range drew the Rams to within two at 13-11 with five seconds in the opening quarter. 
A backdoor pass from Singh to Lerwick resulted in a lay in to tie the score at 13.  The lead changed hands seven times in the second quarter as the two teams competed at a fast pace.  Fulmore, a 6-5 senior, scored on a put back to tie the game again at 26-26 before the Rams inched back into the lead at intermission on an offensive rebound by Bell and assist on a dish inside to Lerwick.
Mount Rainier upped the lead to 32-26 in the third quarter on a basket by Singh. McAllister's breakaway bucket for Kennedy knotted the game at 34 apiece.  The Lancers fought back on a three-pointer from Ward and the Lancers trailed 43-41 entering the final quarter.
With the score tied at 43, Mount Rainier fell back into a zone on one trip up court by the Lancers, and the strategy backfired. Hilliard nailed a three-pointer. AJ Keys added another long-range bomb to extend the Kennedy lead to 49-43. 
From here, the Rams began to take over. Mount Rainier's Bell would score nine straight points. He also drew an offensive foul on defense at the other end of the court that drew the ire of the Kennedy faithful.  Big man Fulmore swatted away a Lancer offensive attempt with time running out on the game clock that seemed to put an exclamation point on the homecourt victory for the Rams.
Mount Rainier celebrated its big win in fashion.   Students poured onto the court when the final buzzer sounded to greet the winning team.
"I'm excited for the group," said the Mount Rainier coach. "That was a big win for them."
"We didn't hit some buckets that we needed to," said the Kennedy coach. "But we'll bounce back next week and play as hard as we can."
Kennedy plays at Tahoma on Tuesday and will host Kent-Meridian on Thursday. The Lancers play at home again on Saturday against Kentridge. 
Mount Rainier travels to Kentwood on Tuesday and will return home to play against Hazen on Thursday. The Rams will entertain Kentlake on Saturday.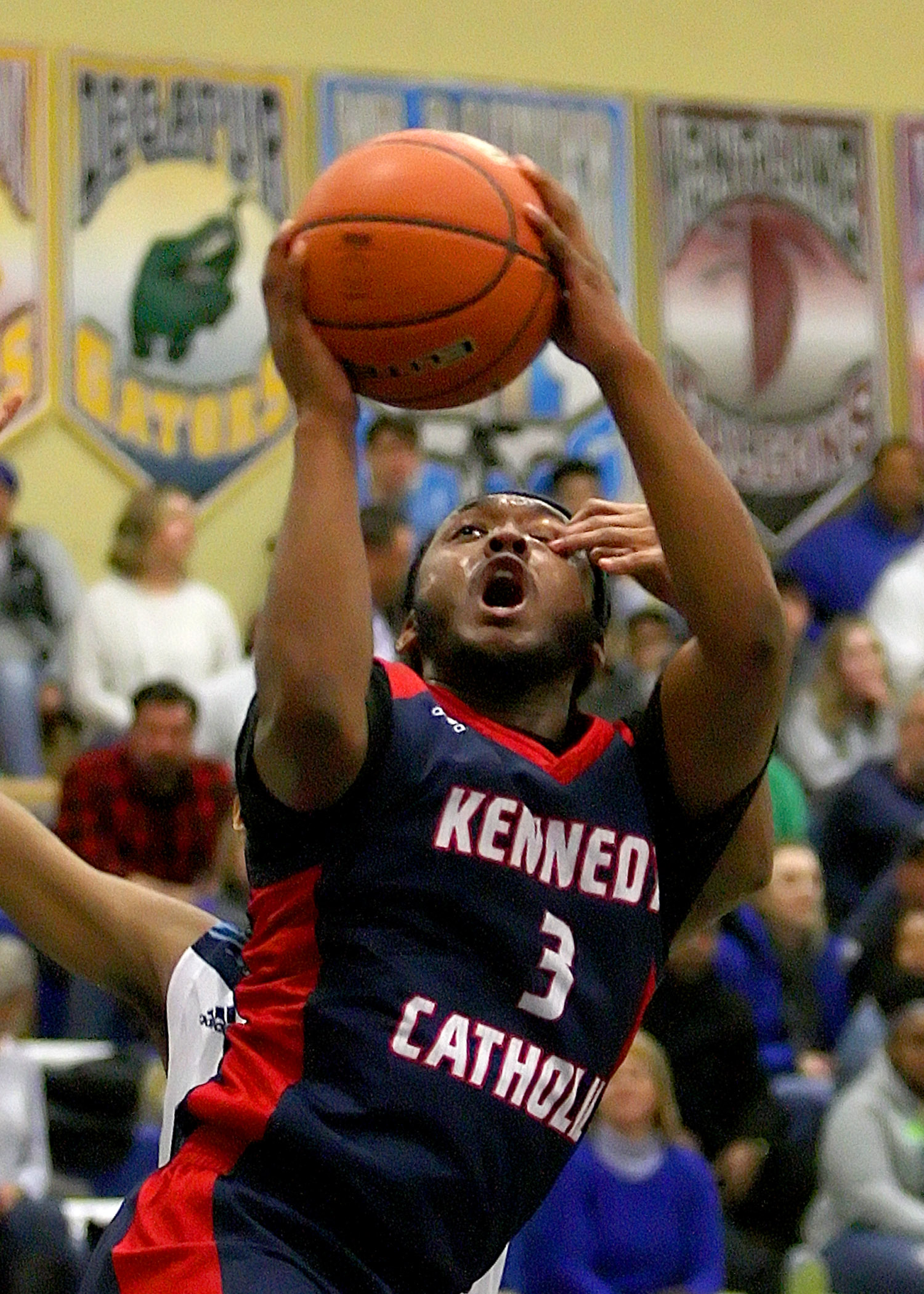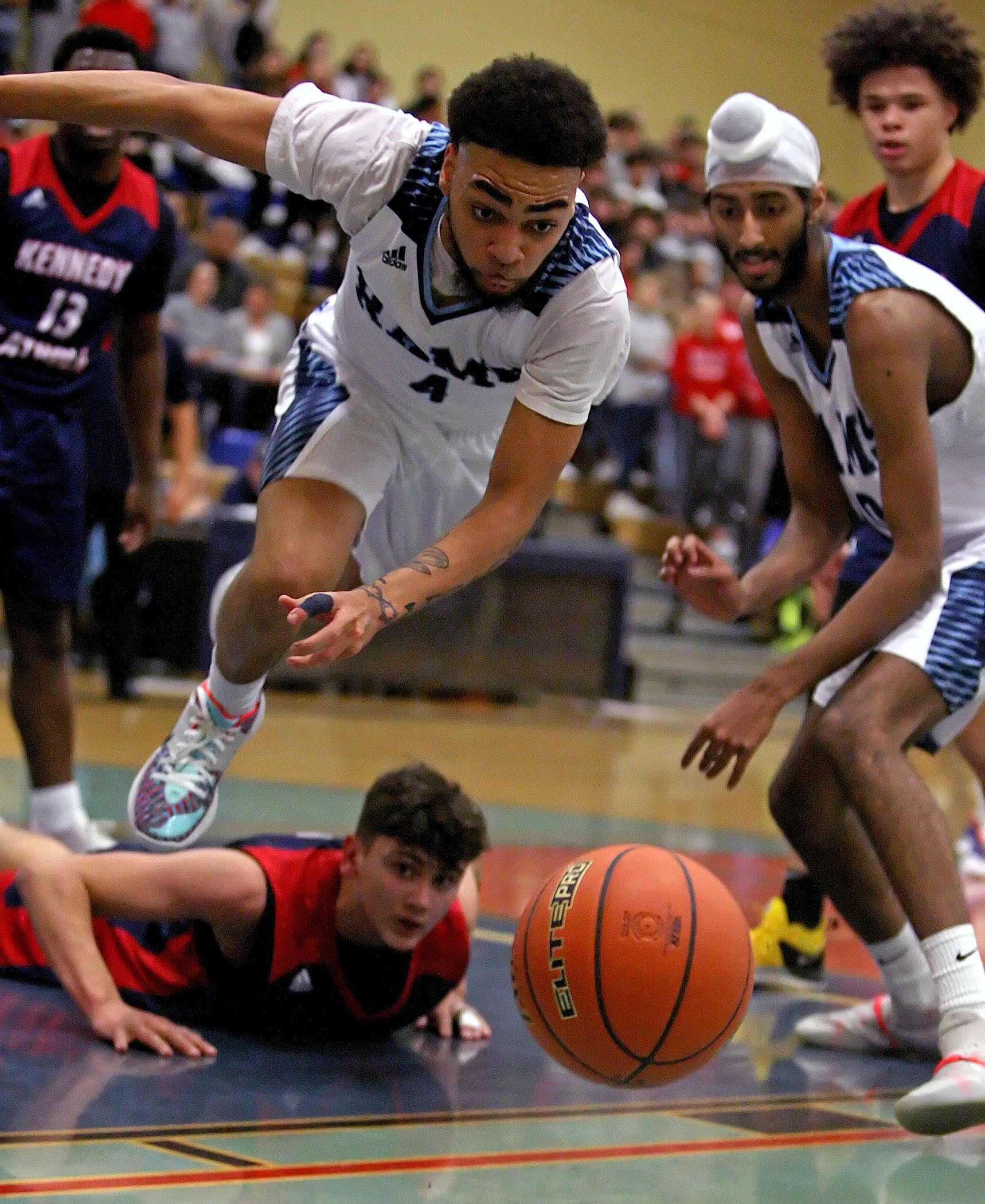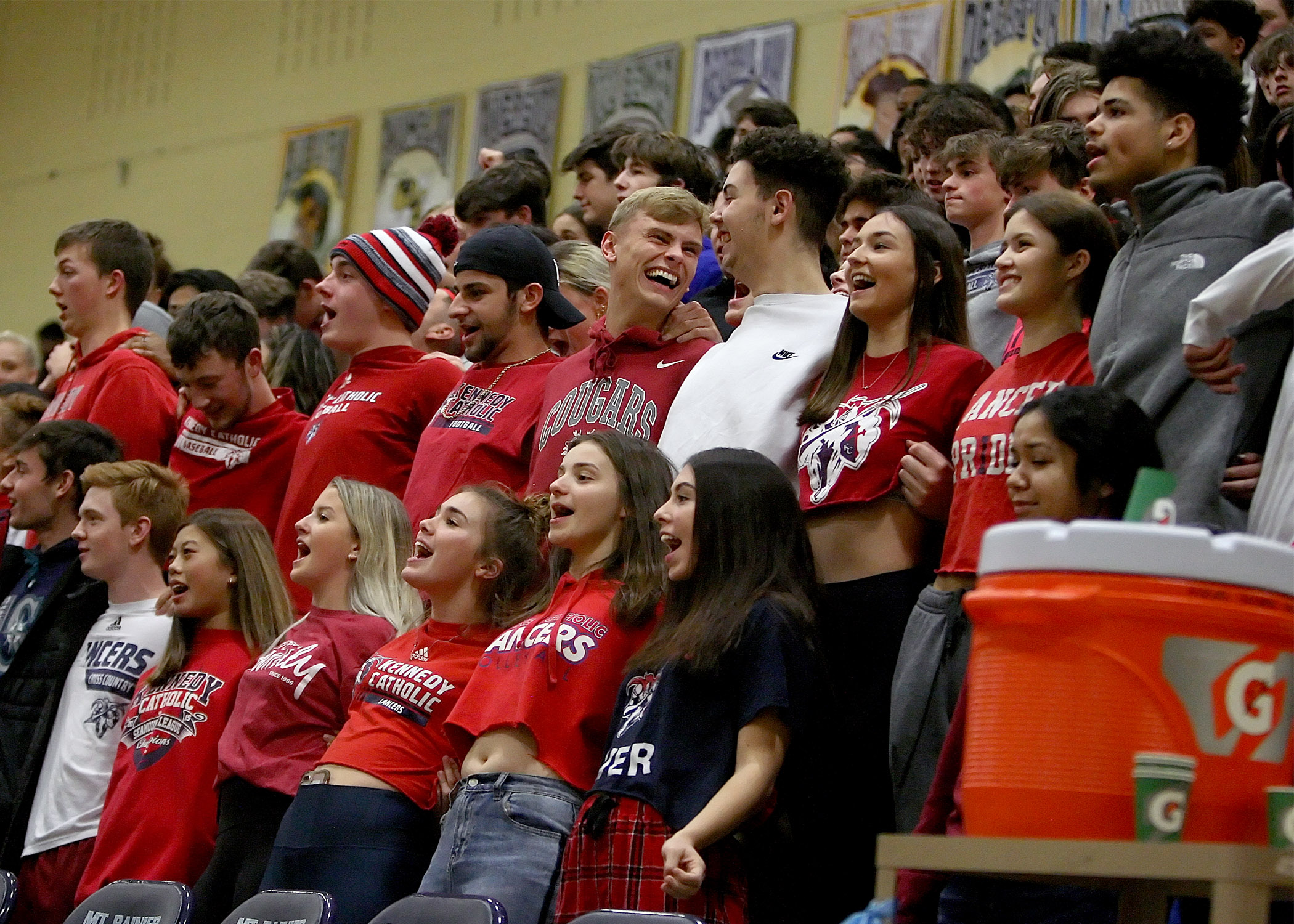 Comments
Well written!!! Great detail-felt like I was at the game all over!!!
Add new comment