West Seattle girls fight hard in knuckle biter
West Seattle girls fight hard in knuckle biter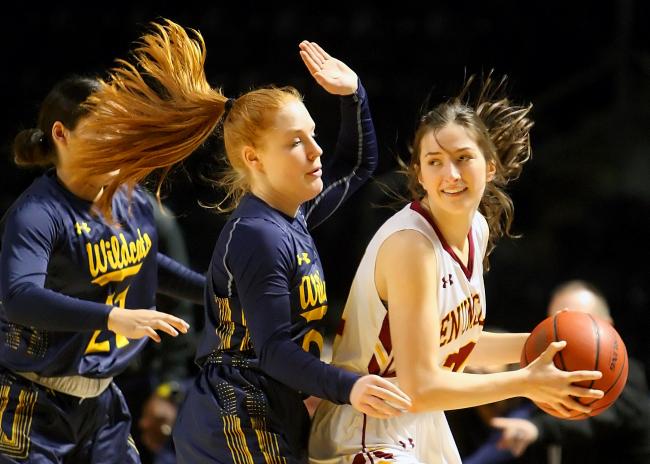 Kurt Howard photo
Tue, 01/21/2020
By Gerardo Bolong

CONTRIBUTING WRITER

KENT - On a day of basketball honoring Dr. Martin Luther King Jr., the Metro 3A West Seattle girls basketball team battled to the bitter end in a 56-53 loss to NPSL 4A Enumclaw at the King Showcase presented by Icelandic Glacial on Mon, Jan. 20.

Trailing by 50-29 with nearly six minutes of elapsed time in the third quarter, the young Wildcats traveled all the way back to tie the score at 53-53 on a Julianna Horne baseline driving lay up with 1:26 remaining in the fourth quarter at the accesso ShoWare Center. 

Both teams worked their way through missed shots and turnovers until Sydney Brazier received the ball inside for a Hornet basket as 24 seconds remained. 

Enumclaw then stole the back court in bounds pass with Jesslyn Huizenga notching a game ending free throw. 

Almost at a loss to explain how this comeback was instigated, Westsider head coach Darnell Taylor said, "You never know what you're going to get. This team is young. Mostly freshmen and sophomores. In the last few games, we've turned the corner a little. Different girls have stepped up. We need to establish depth. They just kept battling. They're a bunch of really good girls. They try hard and are very coachable." 

Enumclaw seized the first quarter impetus with close in baskets to lead 12-1. 

Persistence by Kaydinse Piersol, Lauren Wright, and Julianna Horne narrowed the deficit to 18-12 by the end of the quarter. 

The Hornets lengthened their lead to 25-15 as the Wildcats had problems just making shots. 

Four Piersol free throws sandwiched around a pair of Horne charity tosses brought WS within 25-21 midway through the second quarter. 

It was time for Enumclaw to buzz away, again, on seven consecutive points to enlarge its margin to  32-21, but consecutive baskets by Horne and Ashley Young closed the gap for West Seattle ahead of an Enumclaw basket that created a halftime score of 34-25. 

Still within single digits at 38-29, the Westsiders saw their fortunes go South in the face of an Enumclaw 12-point break out hastened in part by poor West Seattle shooting from the field in the third quarter. 

With a possibly daunting 50-29 deficit, the Wildcats suddenly turned into aggressive hunters, chasing down loose balls exuberantly and keeping the Hornets at a standstill.

Young's driving lay up to end the quarter had WS back within striking range at 50-39 entering the fourth quarter.

Ren Olson torched a three-point goal to get the Hornets back to a 12-point difference, 53-41 with 5:27 remaining. 

West Seattle initiated its final, furious rally on a Horne basket. 

Horne, Piersol, and Wright commandeered eight consecutive Wildcat points that could have been more with good free throw shooting. 

Piersol's  rebound basket made the score 53-51. Brooke Swanson made a steal for WS to give the Westsiders possession for Horne's equalizing basket and the final moments played out the favor of Enumclaw. 

After four years of state and district competition, West Seattle is starting the learning cycle again. 

One holdover from last season's sixth place state team explained her new role as a leader and mentor. 

"Last season I focused on being a finisher," said junior player Horne who closed with 10 points. "Now, I have to step up and get the ball to everyone when we're playing. In the first half, today we started in a 'man' defense and switched to zone in the second half." 

Hardworking sophomore Piersol saw the comeback as a point of expression. 

"We communicated more and got more into it," she said. "During the first half, we rushed shots." 

Piersol was an anomaly for West Seattle by shooting well from the free throw line and from the field. 

Her 16 points came on 12 of 16 free throw shooting and 3 of 7 from the field. 

Swanson, Young, and Wright added six points each. Maria Grossi posted four points and Ciera George one.

Brazier was a second half catalyst for Enumclaw on the way to 14 points and nine rebounds. Saydee Anderson added 12 points and Huizenga had 11. 

West Seattle's competitiveness was remarkable in the face of daunting game statistics. 

West Seattle shot 17 of 54 from the field with zero three-point baskets and were out rebounded 44-33. Free throw shooting was mediocre at 19 of 35, but Enumclaw was only 12 of 22 from the charity line.