Team togetherness keeps Foster playoff hopes relevant
Team togetherness keeps Foster playoff hopes relevant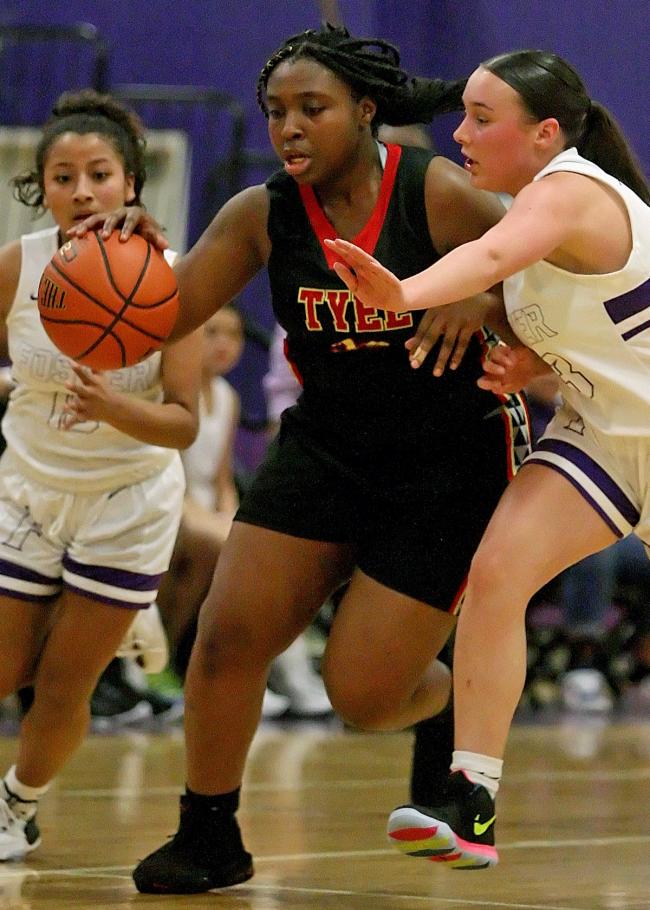 Kurt Howard photos
Sat, 02/01/2020
By Gerardo Bolong
CONTRIBUTING WRITER
Continuing improvement with team cohesiveness was the formula for success in a Foster girls SPSL 2A  43-34 home basketball win against Tyee on Fri., Jan. 31.
This win avenged an earlier 50-33 loss at the Totem home court and gave the Bulldogs solo second place in the North division at 8-4 and a 9-9 record overall. The Totems fell further back into third place at 7-6 and 8-11. Both squads are bubble teams that are fighting to stay in the top eight league RPI which qualifies teams to the SPSL tournament that determines seeds to district.
"We really worked hard on defense,"said first year Bulldog coach Allen Dodson. "It's just taken a long time to gel. We're getting it together."
After Tida Sesay pushed the Totems into
an 11-6 lead with the first basket of the second quarter, the Bulldogs started working together better despite the absence of WIAA player of the week center Cassie Fiapito due to a rolled ankle injury.
Five-foot freshman Nikki Pham initiated a Foster rally with a three-point goal.
The Bulldog 2-2-1 full court trap started to turn fortunes the Foster way.
Freshman Genesis Clark banked home a straight on three and followed with an angled three-ball for a 15-11 lead,
As the Bulldog defense detonated, the Totems encountered a shooting drop off that caused nearly five minutes of scorelessness.
Mackenzie Sewell notched a Tyee three that was answered by consecutive threes from Monica Chin and Lamia Djuderija, respectively.
Joining the three-point spree, Makin Yee scored from beyond the arc to keep the Totems within 21-17.
The Achilles heel of Tyee had already been revealed.
"We couldn't put the ball in the basket," said Totem head coach Kody Dribnak. "That's been our problem all year. You can't win games when you don't make baskets."
This trend continued as Tyee buffeted the rim with shots that failed to drop, even on close-in shots. 
Clark led the way with Linda Asunción, Pham and Chin on both ends of the court.
"We meshed together very well," said Clark. "My teammates got me the ball at the three-point line and helped me get lay ups. We got the job done on offense and defense." 
Clark closed out the game with 13 points. 
The Foster lead systematically grew until the Bulldogs went into the final quarter with a 33-24 lead.
Tyee was never closer than seven points the rest of the way while Foster earned a game-high 12-points at 41-29 shortly before the proceedings ended.
Asuncion, who had a strong second half, especially from outside, scored 12 second half points as part of her 14 game points for the Bulldogs. 
"I feel that our defense was very good," she said. "We trapped very well." 
Yee paced the Totems with 12 points.