West Seattle girls rock Chief Seatlth high school
West Seattle girls rock Chief Seatlth high school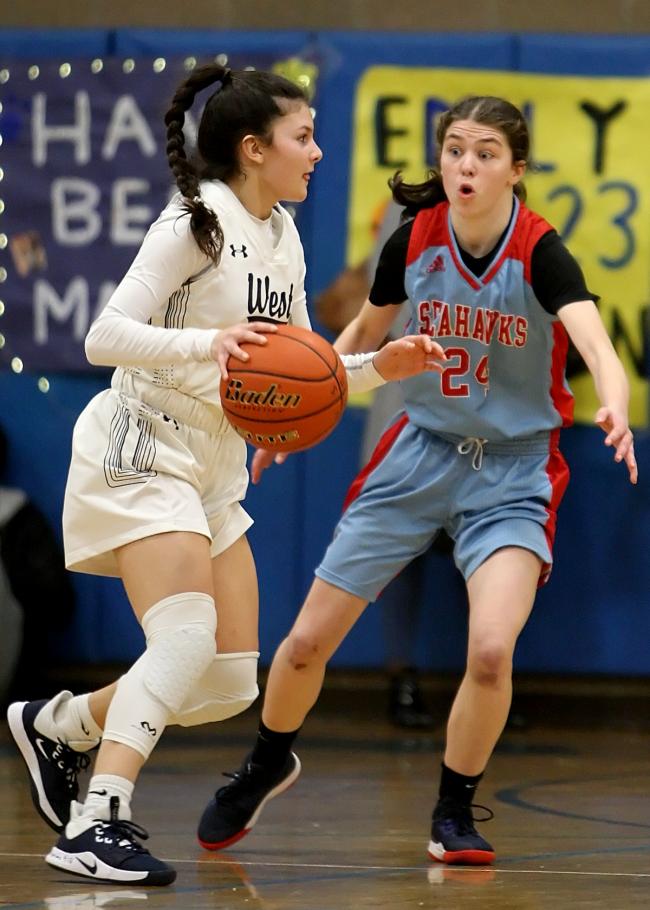 Kurt Howard photos
Mon, 02/10/2020
By Gerardo Bolong
CONTRIBUTING WRITER
West Seattle worked off a slow start before tracking into a 52-20 Metro 3A regular season ending win against visiting crosstown rival Chief Sealth International High School on Fri., Feb. 7.
Both teams enter the Metro District qualifying tournament.
The Seahawks (3-17) play at Nathan Hale in a 7 p.m. tip off in a loser-our game on Feb. 10. On the next night, the Wildcats (8-12) visit Bainbridge for a loser-out game at 7 p.m.
"I always worry on Senior night," said Westside head coach Darnell Taylor. "I understand the distractions....Then we have freshmen who don't realize the high magnitude of the game."
With the home pep band blaring away with enthusiasm and verve plus the student body working with a student made ESPN banner group, the Westsiders were buoyed to make their move.
Leading 21-14 at the half, the Wildcats got their express on the fast track to ride the Seahawks off the rails in the Battle in West Seattle.
As the defense jammed most Chief Sealth efforts, the steal and run strategy of the Westsiders reaped high dividends.
Julianna Horne torched a three-point bomb to make the score 28-21.
A Brooke Swanson lay up completed an additional five-point Wildcat scoring spree for a 33-21 dominance.
The point spree was interrupted by a Jing Gardner free throw, but West Seattle took up the mantle of scoring again.
Brooke Swanson assisted to Maria Grossi on a breakaway before following up with an assist to Horne.
Swanson completed her third quarter of assists, steals, and scoring her own basket after she stole the ball and scored for a Westside 39-15 margin after three quarters.
"We had to get steals and the right mentality," she said. "We were a little down at halftime."
Swanson scored her game total of seven points in the pivotal quarter.
More of the same Westside trends ensued while the home team built leads of 32 points twice, including the final score.
Berlyn Martinez downed a three-ball to open the game for Chief Sealth International and the Seahawks led 5-1 before the Wildcats went on the prowl for nine consecutive points to end the first quarter.
West Seattle extended the lead to 20-10, but Chief Sealth International resolutely stayed within striking range on a first half ending Martinez three-ball.
Alissa Jensen, Ashley Young, Maria Grossi, and Emily Buchanan celebrated senior night by joining junior Horne in the starting lineup.
Sophomore Jadyn Watts posted 17 points to lead all scorers. Ciera Jorge was also in double figures scoring at 10.
Martinez downed a trio of three-point baskets as part of her Sealth leading 13 points.